Total manure.
Gardening Mama 2: Forest Friends is a DS game from 2006. I don't mean that in a literal way – the game originally came out earlier this year on 3DS – but you couldn't tell by looking at it. Counting spin-offs and console games, this year marks twelve Mama games in the last eight years. While Gardening Mama 2 does a great job of showing how far we've come since the early days of the handheld Nintendo touch screen, it also shows how little this series has learned.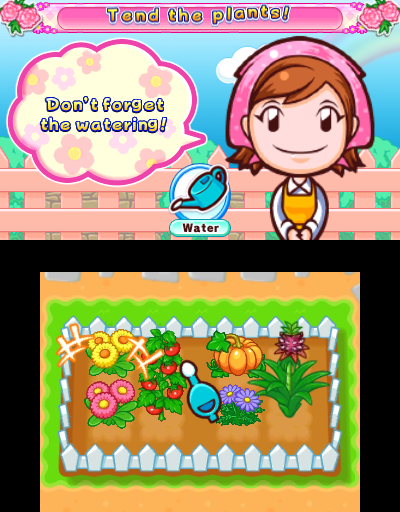 The game is primarily a collection of 50 mini-games, and while they look different, they all use basic tapping, swiping and dragging mechanics in the same boring, gimmicky ways early DS games were doing. In "Collect chestnuts!" you swipe tongs at the right time to collect chestnuts. In "Get sunflower seeds!" you individually pick off 270 sunflower seeds by simply swiping the screen 270 times. Zero of the games are fun, all of them are too repetitive, all of them go on for too long, there's no pause button short of the Home screen, and Mama's awful Dora the Explorer knock-off friends continue to have grating voice acting. Everything is well polished and colorful on a technical level, but I would be shocked if anyone smiled once while playing these slog-fests.
Playing the games unlock seeds to farm with. The farming all takes place through the touch screen in a mundane affair of planting, watering, and waiting, and while there are some variables like annoying plant infestation mini-games and some trees you can chop down for wood, everything is too repetitive, too boring, and too simple.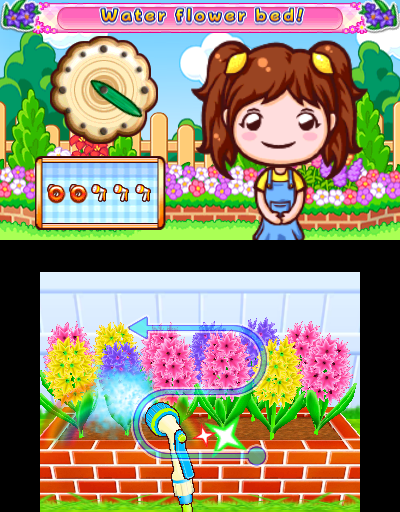 After harvesting your plants, you talk to an animal standing in front of your house who wants, say, five apples. You plant and harvest your apples, go into the town area, and sell your goods to the animal business proprietor who requested those apples. Upon finishing this "delivery" (which is ultimately a fetch quest), the businesses gain experience points to evolve and grow bigger, and you get paid in Shopping Tickets for your work. This sounds well and good, but after all of those repetitive mini-games, all of that boring farming, and all of that responding to fetch quests, the only thing your Shopping Tickets can be used for are more seeds and non-interactive decorations for your farm.
That's the game. Each day provides a new fetch quest and a new mini-game, and there's some other weird minor stuff like a photo booth mode where you can overlay some effects over your pictures, but that's Gardening Mama 2. One could argue that the game is made for children who like repetition more than an adult might, but there are vastly better options in both farming simulators and mini-game collections regardless of what age you are, whether it be Harvest Moon or even an earlier Mama game. Gardening Mama 2: Forest Friends is a game polished through iteration, but it has nothing to say, no substance of value, and gameplay mechanics that should have went extinct nearly ten years ago. Gardening Mama 2 is worthless.