There are cats in this game, and that should be enough of a reason for most people to take a look.
Skater Cat is a charming platformer on the Nintendo 3DS eShop with a fun concept and some unique uses of the 3DS' features, but is limited by a lack of content.
Skater Cat has one main game mode, in which the player takes on the role of the Skater Cat and must traverse 30 side-scrolling levels divided evenly among three worlds. The levels are filled with obstacles such as rolling bulldogs and spikes that slow down the player as well as pits which lead to death and having to restart the level. Another mechanic in some levels is a switch that flips the player upside down where they will then traverse platforms on the top of the screen. Levels are made up of essentially all the same obstacles and a few various environmental setups that rotate throughout the game.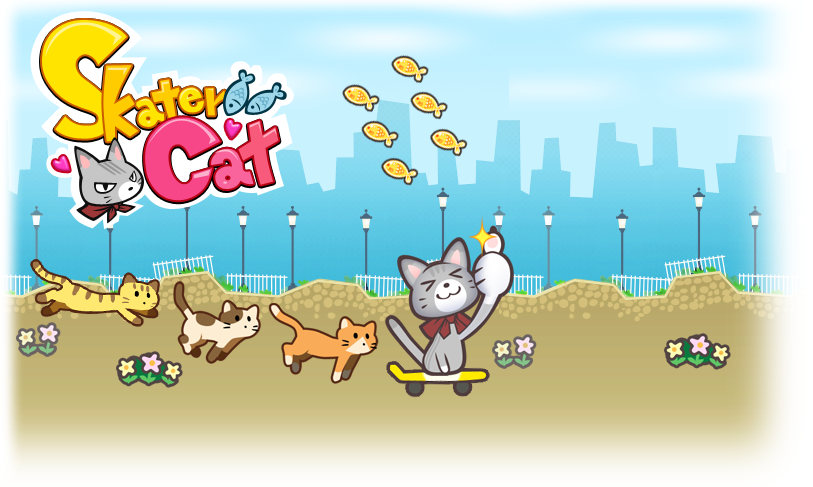 Speed is the major focus in Skater Cat as the player is rewarded with one to three medals at the end of each level depending on completion time. This is not made obvious to the player but I was able to figure it out after retrying a level several times to try to get three medals. In fact, the only instructions for playing the game are diagrams of basic maneuvers such as jumping over enemies. In order to increase Skater Cat's speed you must catch stray cats to join you. If you run into an obstacle while having stray cats follow you, you will lose a member of your high speed glaring. To advance to the next world, the player must collect a certain number of medals on top of reaching the end of each of the current world's levels. Collecting Medals also unlocks the ability to use your Mii as your skater as well as items to customize your Mii, such as a cat head hat.
Where the game struggles the most is its lack in variety. Levels seem to be pretty much the same with more of the same obstacles to create difficulty. The level soundtrack has only one track which becomes annoying near the end of the game. It's not too terrible of a track, but not one you want to hear more than two levels in a row. The brevity of the game is another issue. Being 30 levels long, Skater Cat can be completed between one and two hours of playtime.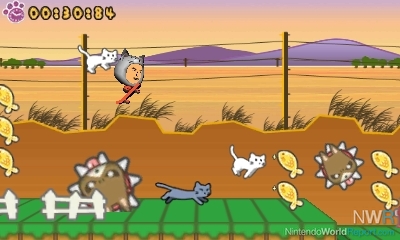 On the other hand, Skater Cat does do some interesting things to take advantage of the features of the 3DS. Being able to play as your Mii is a nice touch especially from a third party eShop title. Also, level times can be swapped over StreetPass which should add replay time to those who are able to find StreetPasses. Sadly the game has a rather weak use of the 3D effect.
Skater Cat is a fun platformer that is easy to pickup and takes some skill to complete a level with three medals and several stray cats. As a fan of momentum based platformers, I enjoyed playing Skater Cat and can see myself going back to replay some of the levels to improve my time, especially if I am able to get some StreetPasses. Although, if you're not a fan of the genre, you may find that Skater Cat is in need of more variety and increased content to be a stand out eShop title.