A fantastic game about connecting cubes; too bad those cubes struggle connecting online.
The 2013 mega hit Fire Emblem: Awakening was an example of how well strategy games fit on the Nintendo 3DS platform, as well of how much 3DS owners wanted to play well made strategy games. In case you were wondering, I will NOT be comparing Cube Tactics to Fire Emblem. However, publisher Tayon has produced a strong addition to the limited strategy game catalog of the 3DS.
At first glance I was surprised to see the amount of content the developers packed into this $4.99 eShop game. Cube Tactics boasts a pretty robust single player experience as well as online, four-player competitive multiplayer.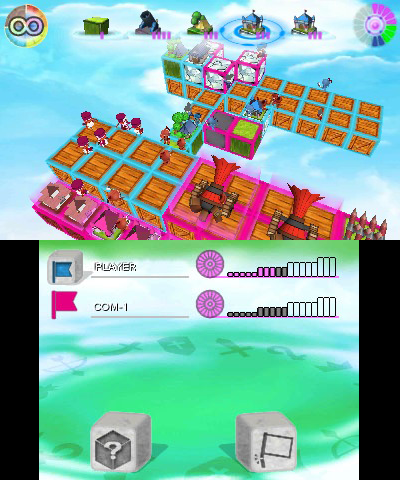 The goal of a mission in Cube Tactics is to build various cube structures to create an army and destroy your enemies core cube while defending your own core cube. Cubes include structures that produce melee units, ranged units, masons that repair damaged cubes, clerics that heal units and other unit making structures. Along with unit producing cubes are other cubes that function similar to towers in a tower defense game. There are cubes such as cannons, catapults, healing flower cubes and trap cubes. Finally, you have terrain cubes which can be used to build on top of. You can only build a cube next to a cube you control or on top of a terrain cube you control. As you defeat enemy non-terrain cubes, you will gain control of that terrain. By building and capturing cubes, you can create an army strong enough to make your way through enemy territory and take down their core cube. Players are allowed to speed up progress to double time if they feel like they have the advantage over their opponent.
Players can select any mode upon downloading the game, however the game suggests you begin with the tutorial mode. Through the teaching of the cocky "Sir Knight", players will learn the main mechanics of the game through ten tutorial levels. Even as someone who is easily turned off when it comes to tutorials, I found myself enjoying these levels regardless. Sir Knight does a great job of teaching you the mechanics with charm, without unnecessary hand-holding. This mode does a great job of gearing the player up for the actual quest levels. Newcomers as well as veterans of the strategy genre should be able to enjoy this portion.
After completing the training, players will now be equipped with the understanding of Cube Tactics' mechanics to take on the main quest. Quest scenarios require the player to use specific units and strategies to take down the computer and destroy their core. Quest missions provide a good level of challenge and it is a great feeling when you know that you have turned the tide of a battle in your favor. Cube Tactics controls well for being a strategy game on a handheld. The missions require you to think quickly and strategically about your unit places. When you fail at a mission you do not feel like the game has cheated you out, rather you begin to understand better what the mission is asking you to do. The missions do a great job of giving you that "one more try and I have got this!" feeling. Players will unlock various medals as they progress through the quests as well.
The final single player mode in Cube Tactics is the Battle Royale. In this particular mode, players can set up the attributes of the contest to their own liking, such as settings for the time limit, CPU difficulty, battlefield size and the number of opponents that can be customized. This mode adds a considerable amount of replay value to the single player portion of the game. Battle Royale feels significantly different from the Quest missions. Each player begins with their own core cube and drawing from the same collection of cubes, one must expand their territory and army in order to take down their opponents. Having to select from the same cubes as your opponents adds an even greater frantic feeling. You will see the cube you have your eyes on to build next be nabbed by the computer and used against you.
Where Cube Tactics falls short is in the online multiplayer. This game seemingly had so much potential to be a multiplayer hit. Online battles follow the same rules as Battle Royale mode and can include up to four players. The problem is the connection. When the game first released on Thursday, March 13, I was able to quickly connect to a session. Everything seemed great until the game started. Cube Tactics' greatness is in the feeling of have to quickly and strategically build your army. This is ripped away due to the online modes extreme lagginess. It seems like other players of the game have experienced similar situations as now (March 19) when I try to find a game there just isn't anyone to play with on the servers. Sadly, there is no local multiplayer to possibly provide an alternativ experience. This mode had so much potential, but is essentially broken due to the aforementioned issues.
Cube Tactics provides the eShop with a much needed strategic experience that is both challenging and rewarding. The single player mode has plenty of content to warrant the cost of the game. However, what keeps this game from being an absolute must own title for 3DS owners is the poor performance of the online multiplayer. Hopefully those issues mentioned earlier will be resolved soon. I would gladly give Cube Tactics a score of 9/10, but the struggles with that part of the experience has caused me to dock the score. Hopefully this is something that Teyon can retroactively fix in the near future.