Phoenix Wright and co. are put on trial once again in their first 3D outing.
While Phoenix Wright: Ace Attorney - Dual Destinies ties together many core elements and cast members from previous games, it also exhibits its own worthy additions to the court record.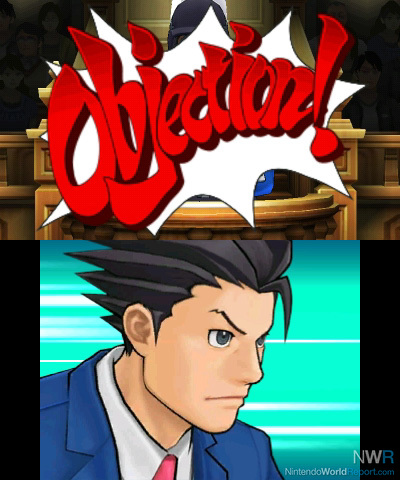 Apollo and Phoenix are back in session together this time and are joined by new recruit Athena Cykes. Thankfully, the trio take turns in the spotlight and no one seems underplayed or relegated to a customary supporting role for too long. Rather than just fan massaging, the setup refreshingly manages to balance each character. Each attorney has their own perspective on the action and a special skill to aid them during trials. Phoenix still dismantles defendant's testimony blocking Psyche-Locks with his (well, Maya's) trusty Magatama. Meanwhile, Apollo's trademark bracelet once again allows him to zoom into the action to 'perceive' nervous visible 'tells' given off by suspects. Likewise, Athena comes equipped with Widget—a computerized necklace that allows her to 'hear' people's emotions on a mood matrix. Using widget's hologram displays, she can pinpoint conflicting emotions felt by suspects during testimony.
Pushing suspects for further testimony and presenting the correct evidence at the right time is still the bread and butter of Ace Attorney's visual novel style gameplay. Jeopardy familiarly comes in the form of our hero's health bar taking damage with every incorrect submission of evidence during trials. That drama is given a stark safety net this time around, as your co-defender will 'counsel' you with hints as to which part of a testimony requires you to present evidence. This appears after a few failed attempts. Be aware that the counsel feature is something that is optionally selected but can't be turned off once chosen.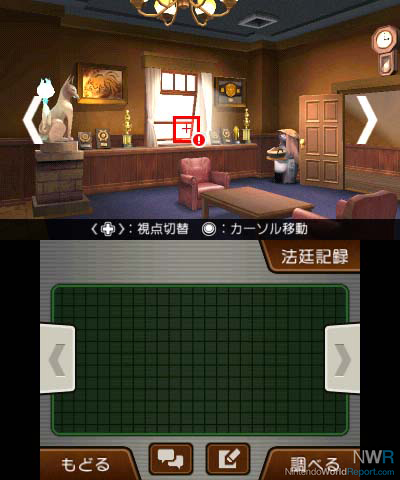 On-location investigations also have an added arm bands mode. Again, if the player gets lost you can peek at a 'court note' tab which will show you where to investigate and who to talk to. This is another element that takes away some of the critical thinking that the game demands and thrives upon. However, like the courtroom 'counsel' feature it is an optional shortcut that isn't pushed on the player. You can click the tab for a hint or leave it alone, it's the player's choice. Seasoned defense attorneys may find that the built in easy mode waters down the courtroom drama far too much. That said, it does serve as a more inclusive gameplay addition for newcomers and younger gamers
In the past Ace Attorney games were often guilty of requiring the player to throw up the least plausible evidence at the weirdest of moments, which would de-rail the cohesion of the game's structure and narrative. Whether these instances had bad translation or iffy script writing to blame, Dual Destinies is certainly less prone to these pit-falls than previous entries in the series. The 'counsel' and 'court notes' additions are certainly effective tools to dig players out should they get stuck.
The investigation portion takes further advantage of the 3D upgrade. Multiple angles and depths suit the 3DS and being able to explore a fully rendered environment rather than poking at a pixelated drawing of a cartoon landscape is what Ace Attorney was always waiting for.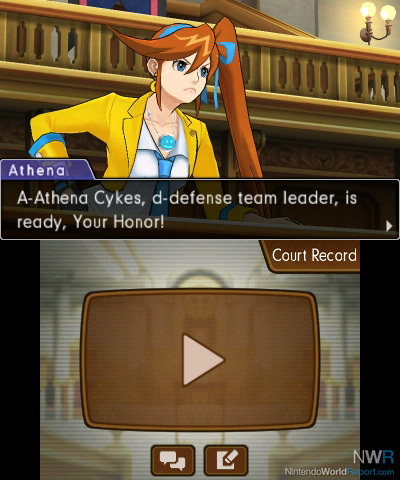 Stylistically Ace Attorney 5 has reached a new level for the series. High quality anime cutscenes (courtesy of studio BONES) are a welcome addition that fit naturally in the world of Ace Attorney. Finishing the game unlocks a gallery of anime cutscenes and illustrations. The illustrations are just the images of evidence and character accounts seen in the trials and are nothing special. It would have been great if they'd instead thrown in some pre-production concept art or character designs. I found that a little disappointing, it felt like a no-brainer.
With Capcom repeatedly making so many terrible judgments with their core franchises in recent years, it's a relief to see them finally hit a home run. Despite Phoenix Wright: Ace Attorney - Dual Destinies getting a bum rap as a less visible digital release, the game makes a strong case for being the best in the series to date and one of the better 3DS games out there this year.