Exploring passageways was never this fast and furious!
AiRace Speed is the third entry of QubicGames' series, which started its life on Nintendo DSiWare. The previous two games, AiRace and AiRace Tunnel, came out way back in 2010. AiRace was the bigger release of the two, and had you duke it out in open areas, battling against other planes. AiRace Tunnel, however, centered more on time trials. AiRace Speed revisits these ideas and improves upon them in a few interesting ways.
AiRace Speed once again puts you in the cockpits of various aircrafts, as you try to improve lap times or simply try to survive. You control your plane through a third person perspective and steer using either the Circle Pad or the D-Pad. Steering has a good amount of weight to it, and there are even options to invert the controls. You can also use the touchscreen to steer, but I recommend that you use the buttons.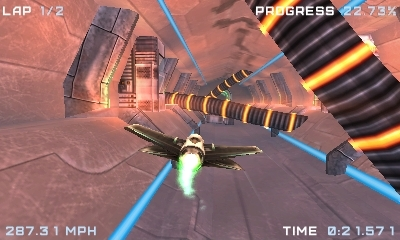 This time around, the game offers 18 challenging courses to play through, and they sure do pack quite a punch. AiRace Tunnel only offered closed off courses, in which you had to overcome cylindrical terrains and make it to the finish line. Speed has way more open areas, which keep you constantly on your toes. These new passages also allow for shiny branching paths that take you through new routes. This makes replaying stages interesting, but they're not the only reason to revisit stages.
Every level in the game has stars to shoot for that are needed to unlock later experiences. The bronze star can be achieved by simply finishing the level. For the other two stars, silver and gold, you are required to meet a certain time window—it isn't as easy as it sounds. While the levels are more enjoyable when played at your own pace, you will have to master them to see the entire game. Careful control of your aircraft's boosts and memorization of obstacle placement is a must if you wish to avoid penalties and shoot for the silver and gold stars.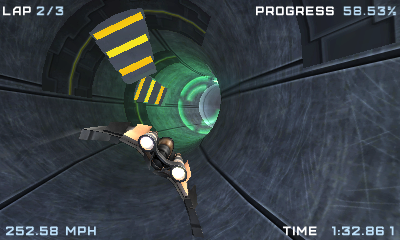 The three endless courses pose a slight contrast to these rules. They challenge you to increase your distance, rather than decrease your time. These levels allow you three screw-ups before game over, and hitting a wall will send you back to a checkpoint. In the regular levels the checkpoints are fairly close to one another. With the endless tracks, however, they can become problematic as each checkpoint is six kilometers apart. If you make just a slight mistake at the five or eleven kilometer mark, you'll be sent back to your last checkpoint, 5 kilometers away. The game also suffers by reusing some obstacles way too often. The issues don't quite stop the experience from being exciting, though. It will still keep you at the edge of your seat.
Online leaderboards add to the experience by allowing you to see both overall and friend rankings for all 18 courses, keeping the competition alive for as long as you're willing to play. Additionally, the achievement system adds even more replay value. The system gives you 42 objectives to shoot for, and while there isn't a real award, it's still a fresh addition. The objectives' bright, colorful logos make it very clear that you have achieved something new, and that's enough to make me crack a little smile.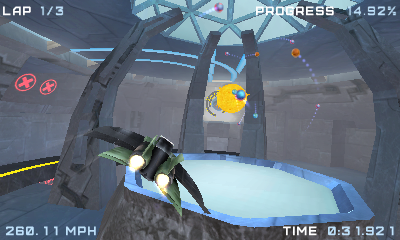 The presentation of the game does a good job of bringing a futuristic look to the table. The areas use the right amount of color to make them appealing and everything comes together well. The 3D effects also add depth to various environments as you try to look beyond what is in front of you. It certainly helps to immerse you in AiRace Speed, and it doesn't affect the smoothness of the gameplay, or the controls. While the audio is not the highlight of the adventure, it does a decent job with some nice lounge/dance tracks that give the game some style and will make you bop your head every now and then.
AiRace Speed is a major improvement over AiRace Tunnel in almost every regard. While not all of its 18 courses are unique, it has a style and flair which is simply unmatched. It helps that the gameplay foundations are interesting and that the experience is just plain fun and challenging. If you are through with all 18 courses, the leaderboards and achievement system will have you coming back to the game for a while. They won't keep you engaged for forever, but they make the game fresh and more involving than the original ride. If you like some fast, flying action, there is no better place to look than AiRace Speed.