The power of the Triple Chi is in your hands!
LEGO Legends of Chima is a multimedia effort by The LEGO Group that tells the story of anthropomorphic animals through play sets, a TV show, and video games. LEGO Legends of Chima: Laval's Journey follows a young lion, Laval, on his quest to restore balance of the Chi, which was destroyed by his former friend Cragger while trying to build Triple Chi armor, a very powerful form of Chi.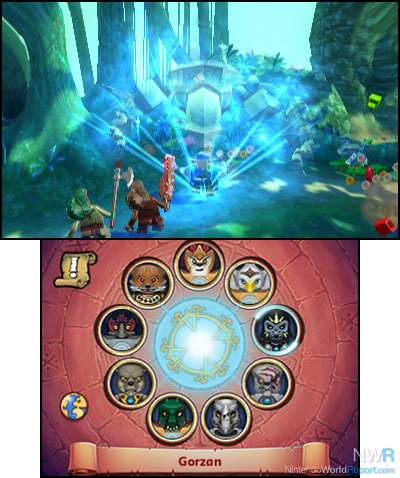 Story aside, Laval's Journey is quite similar to other LEGO 3DS titles. Like other entries in the franchise, LEGO Legends of Chima consists of 3D platforming involving the collection of studs, characters, and extras. Character types are divided into different animal species, and each offers a different ability that's needed throughout levels to complete the game.
Separating Laval's Journey from other LEGO games are its large hub world and the use of Chi. Compared to other handheld LEGO games, the hub world has much more exploration, with different areas available as you continue through the story. It is not a full on open-world as found in LEGO City Undercover: The Chase Begins, but it is still sizable. Secondly, Chi offers up new ways for your characters to interact with enemies and the environment. It makes all characters temporarily stronger, allowing them to quickly take out enemies and perform large feats of strength. Like The Force in Star Wars, Chi is a powerful force that can be used for good or evil and is found everywhere.
Laval's Journey presents a fully voice acted experience that helps to bring life to the characters, though some of it is quite cheesy—Laval's Californian surfer accent comes to mind. The 3D effect is affective in adding depth to the visuals, but sadly cannot save the game from monotony. To reach 100% completion players have to replay the story multiple times, which adds to the repetitiveness already found in the game. Fighting the same enemies and searching for items to open doors multiple times becomes tiresome. Side missions are also present but bring confusion rather than variety. Each side mission is an untracked fetch quest, so a good memory is needed to remember what you need to find.
LEGO Legends of Chima: Laval's Journey is not a bad game, but leaves much to be desired. The sense that you have already played it becomes overwhelming, as if an older sibling smashed your hard work so you had to build it again. There are better LEGO games out there, but if you have a child into the world of Chima the experience will be satisfying enough due to familiar voices and spiffy visuals.