Picross e2 offers more of more of the same, but that might be okay...again.
Jupiter's Picross e2 is their latest take on the Nonogram puzzle genre, of which they have been releasing games under the Picross banner since Mario's Picross for Game Boy (1995). Their nearly 20 years of experience have taken them to a point where they can easily crank out functional iterations. At least it seems that way, because except for the new puzzles, very little has changed from Picross e.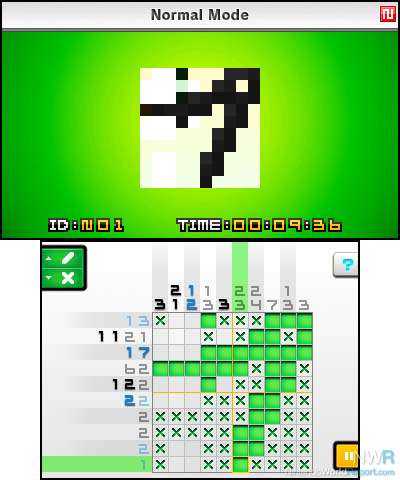 Honestly, Mike Sklens' review of Picross e is entirely applicable here, save for a few differences. Here's a summary: this is a well done, if low-frills version of Picross that makes nearly no use of the hardware capabilities of the 3DS. The music and presentation are inoffensive and unremarkable. There are a large number of puzzles, over 200 in total, but at least a third of those will be far too easy for all but the most novice Picross player. There is a stylus control option that works well enough to allow for expert, speed-run play, although it is a little too easy to make mistakes on the large 15x15 grid (even on the 3DS XL). If you've played Picross e, you'll know exactly what I mean.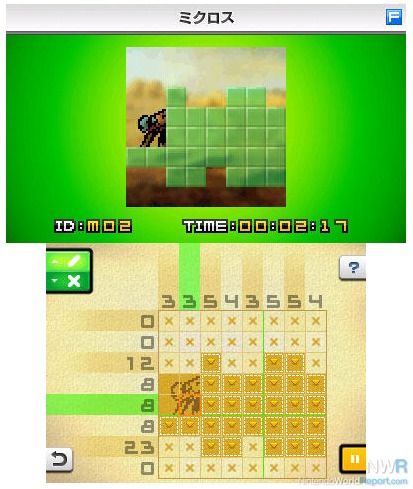 The one new feature of the game is Micross mode, in which several 10x10 grid puzzles are stitched together to form an 8x8 meta-puzzle. It sounds more interesting than it is; you are just solving one easy 8x8 puzzle and several easy 10x10 puzzles. When you complete all of the 10x10 sub-puzzles, you reveal a Picross-style replica of a famous work of art. It's not very interesting, although I had fun trying to guess what each painting was before I completed it. This mode features a different background song than the one that plays during puzzles, but you'll probably turn it off after five or ten minutes.
So this game feels like a level pack, but if you're a Picross fan, does it really matter? I suspect not, though you may be disappointed by the relatively few truly challenging puzzles. If you are interested in giving Picross a try for the first time, you will be better off purchasing the Game Boy version on the 3DS Virtual Console.