I suck at keeping rhythm and even I enjoyed this.
The newest rhythm based game to hit the Nintendo 3DS is none other than Teyon's Groove Heaven. In the game you play Rhymi, a demon on a mission. The mission? Deliver a love letter from the Devil Lord in Hell to the Goddess in Heaven. Rhymi has to make her way through thirty levels in the tower that connects Heaven to Hell, avoiding crazy animals, angels and traps along the way.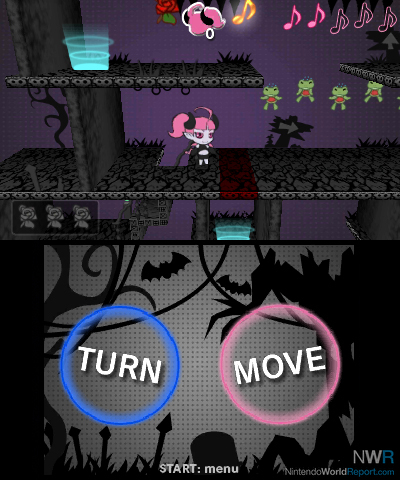 The gameplay is pretty simple and very easy to grasp from the minute the game starts. Rhymi is controlled through two buttons, one to turn and one to move forward. They can either be touched on the touch screen or set to certain buttons. Either way, they only work when tapped along with the beat that's being played throughout the game. It's pretty easy to keep up with the beat, the real challenge comes out of knowing when to stop and start tapping. And if you suck at keeping a beat (like me) it may be difficult from the beginning. Granted, the game does its best to help those rhythmically challenged players by making the first few levels addictively fun and easy.
As the game progresses, the difficulty multiplies exponentially. This doesn't necessarily take away from the game, but it does cause some frustration. Along with the same beat throughout the game the later levels can be so frustrating players might consider turning the game off for good. But those who don't mind a bit of a challenge and find the melody addicting may just breeze through the game with a smile on their face the whole time.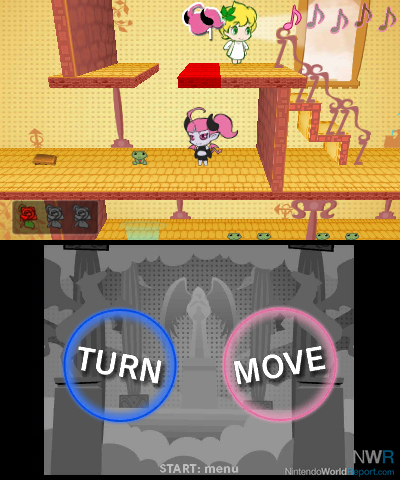 Groove Heaven has this unique charm about it. It doesn't take itself too seriously and it works wonderfully with everything it puts forth. The story is a little silly, but it sets up enough for the crazy environments and enemies to make sense. The graphics are adorable and have their own style that lends itself to the simplistic gameplay. Even the music is simple, but in a good way. The music helps out those who are new to the game mechanics and is fast enough to keep experienced players on their toes.
When I heard there was a new rhythm game coming to the Nintendo eShop I immediately sat up and took notice. I haven't tried my hand at many rhythm games in the past, but when I picked up Groove Heaven I was quite happy with the experience. The simple gameplay mechanics and charming comic book style worked wonderfully to make the game stand out. Granted, the difficulty curve is quite steep, but that shouldn't stop you from having some fun with it. I just wish there was a little more variation in the music. Overall, the game was very enjoyable and is definitely at least worth checking out.