DK and Diddy get shrunken down in this adequate 3DS remake.
Usually when a game is ported to a new platform, the goal is to greatly enhance it and possibly create the definitive version. With Donkey Kong Country Returns 3D, that isn't really how it works. While the added 3D effect and eight additional levels are nice, it doesn't truly improve on the original in any grand way outside of making it portable and optionally easier. Still, Donkey Kong Country Returns is an excellent game (we said as much when it debuted on Wii), and the 3DS remake is a perfectly adequate way to experience the fine 2D platformer.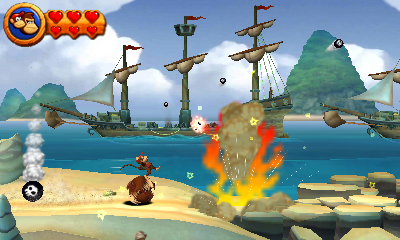 The initial differences are apparent right away. At the forefront are the snazzy 3D visuals that highlight the depth and layers that were always present in the initial release. The entire original game is playable just as it was in 2010, just with a new console and stereoscopic 3D. Additionally, a new mode is available that, in Nintendo's words, makes it more attuned for the portable experience. Really, all it does is make the game easier. Characters have three hearts instead of two, and you can carry three items into a level instead of one. In addition, more items are available, such as a green balloon that saves you from pits and a crash guard that allows you to take two additional hits in a mine cart or rocket barrel.
Having the extra hits is definitely helpful in frustrating spots, but the items aren't that well implemented. They can be a great help, but you need be pre-cognitively aware that you'll need the help to avoid ridiculous load times back and forth as you have to stock up on items before you even enter the level. While it is the way it was in the original, it still doesn't excuse the poor, time-intensive implementation. The load times are comparable to the Wii game, which is disheartening on a portable. Don't expect to simply pick up this game and play it in short, portable bursts.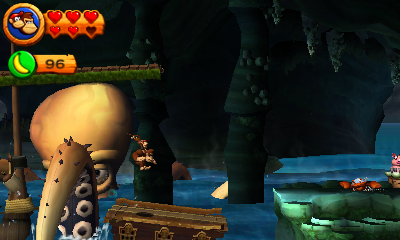 The controls, which were woefully waggle-intensive on the Wii, are all buttons this time. However, some peculiarities lie right beneath the surface. You don't have to shake to roll, as that action is mapped to a button. However, the button placement is weird and oddly not that customizable. The Circle Pad option moves grabbing to the shoulder buttons, while the four face buttons are split between two actions. It sounds weird, but in practice, it works. Holding down the R button to hold a barrel or a grassy wall is rather intuitive. The weird thing is that the D-pad isn't usable in the Circle Pad option, and can only be used in the D-pad control method. In that scheme, grabbing and rolling are reversed, so rolling is mapped to the shoulder buttons, which to me was pretty much unusable. It blows my mind that you can't freely switch between the D-pad and the Circle Pad, as both aren't used in the opposite one's scheme.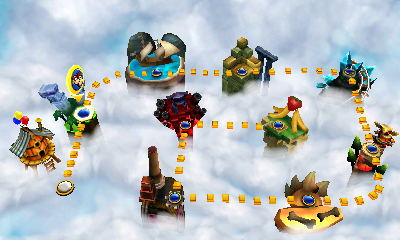 The only addition of honest-to-goodness new content is a set of eight levels that are only playable after you beat the entire game, collect all the K-O-N-G letters, and then beat the hidden level in each world. You can bypass this and buy an orb for each world that becomes available after you defeat the final boss if you want to avoid the challenge. Regardless of how you unlock them, you still need to beat the entire game to unlock the eight new levels. Fortunately, they are truly wonderful, introducing new concepts and twists to the mechanics and design of the original game. It's a shame these levels are so well hidden, because developer Monster Games definitely proved that they can put together some inventive and awesome Donkey Kong Country levels.
Mostly because of how hidden the new content is, Donkey Kong Country Returns 3D is a remake that feels redundant, even more so because the original game is less than three years old. If you missed out on the original, by all means check out the 3DS version for a fine version of a spectacular game. If you've already played, beaten, and enjoyed Donkey Kong Country Returns, then all you would be doing is replaying something you have already played to reach a small but appealing carrot of eight new levels. Retro Studios' foray into 2D platformers is great, but this isn't the definitive version and, honestly, you might be better off tracking down the Wii version.