Your tower is the tower that will pierce the heavens!
Crazy Construction is by far the most energetic game I've played in a while. The concept is simple: stack random objects up to a goal line and hope your leaning tower stays put for three seconds. However, publisher G-Style has taken this game to the next level in a Japanese-style quest to help the cartoonish builders of Haruno Construction Company finish their Sky High construction project.
The Haruno Construction company features a ragtag group of part human, part robot builders who all share the same dream: to build a tower all the way to the moon. Why? Because justice, that's why! This tower will be a symbol of inspiration for the people of the city, so you better take your stacking job seriously. Unfortunately, not everyone shares the builders' ideals. The Crash Construction Company continually tries to hamper the builders by using everything from electrical storms to mutant hawks to stop the tower's construction.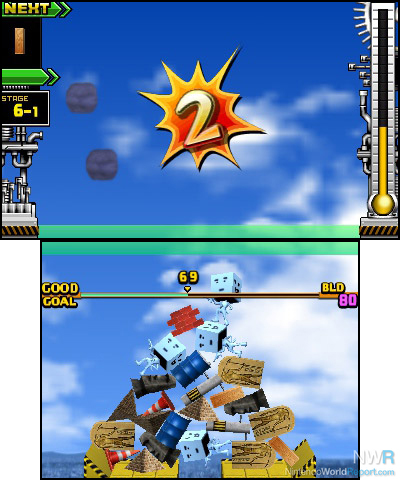 The controls are easy and instinctive. You rotate objects using the R and L buttons, or the A and B buttons, and move an object using the Circle or D-pad. I personally preferred the D-pad for most levels, as it gave me more precise control, though the Circle pad allows for diagonal movement, which can definitely come in handy. The game increases in difficulty at a good pace, with new obstacles for the perfect amount of challenge.
As enthusiastic as they might be, I'm not sure the Haruno Construction Company should be in the construction business. For starters, they only use junk, priceless art, and food to build with; the game features over 100 different objects, actually. Are they stealing stuff from around the city to build with? Do they even have a building permit or pay attention to building codes? Each level starts with a different building platform, featuring holes and ramps. This creates an interesting problem when creating a base for each level, but also makes me question the builders' idea of a structurally sound building.
I think their scariest oversight is their conception of what a "nuisance" is. Every time an object falls off your building platform, your Nuisance Gauge goes up. Let's think about this for a second: objects falling from high up to the populated city below are only considered a nuisance. I'd see it as more of raining down potential death, but then again, I'm not a super droid construction worker, so what do I know?
The game is organized into 10 chapters complete with story cut scenes. Each chapter has five levels, with a special boss appearing on level five. Bosses have their own special powers, such as reversing your controls or making objects fall faster. Tread carefully: if you don't gain enough Building Points by placing enough objects, or if your Nuisance Gauge maxes out, you'll have to start the whole chapter over.
The Nuisance Gauge follows you throughout each chapter, which can be a problem, but Building Points lower it at the end of each level to keep you going. Completing a chapter gets you a special rating (gold, silver, etc.) based on your accumulated Building Points and updates your title. These records can be viewed from the Extras menu.
The music is super fun, and changes a little for each chapter. It definitely adds to the game with positive, energetic tunes to keep you motivated. Boss battles come with their own sinister soundtrack, and if your Nuisance Meter gets too high, the music will equally freak out. Each object comes with its own sound effect, too, which is a nice touch. Some dialogue is also thrown in for good measure; you can hear the Japanese builders yell at you to start, state the name of the game, and countdown at the end of the level. Not exactly Shakespeare, but I certainly enjoyed it.
One thing the game oddly leaves out is any form of 3D. True, the game wouldn't have been drastically changed by its inclusion, but the option for even light 3D effects is something I've become accustomed to.
The game also isn't heavy on features. It includes the main story and an Endless mode once you complete the game. I would have loved an option for some sort of local multiplayer ability, but the game makes no secret of its objective from the beginning, so I wasn't too bummed by the amount of gameplay. All in all, I spent a little over 16 hours experiencing the narrative and building a 100+ story tower in Endless Mode. It's a great game to pick up and play anytime you want a quick fix, though you can't save between chapters, so some minimal dedication is required.