Is "jumping the bear" a thing?
Steve is just like any other guy. He doesn't want to be eaten by a bear or a shark. In order to fulfill his desire to continue living he must run, endlessly, to the right side of the screen. On his way to the other side (of the screen,) Steve must dodge obstacles and avoid disguised predators. With that simple premise and fun visuals, BearShark marks the first CollegeHumor game for the Nintendo 3DS.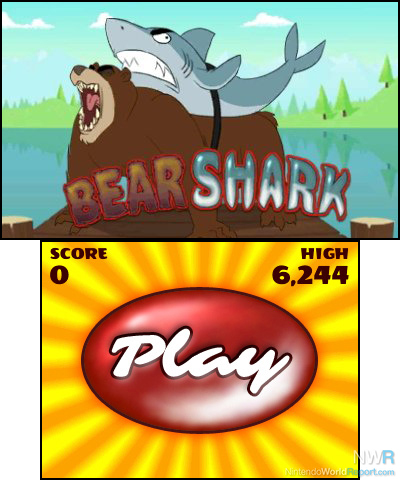 With BearShark, what you see is what you get. If you're someone who enjoys endless runners, you may find yourself enjoying the game. The game alternates between the woods and a lake, switching antagonists according to the environment. The objective and gameplay stays the same throughout: You, Steve, must run, jump, and swim for your life. Avoiding the various obstacles and antagonists can all be done with a single button or by tapping the touch screen, which is all responsive enough and makes the whole experience very easy at first. But with each new area Steve arrives at, the speed increases, making it exponentially harder to play.
The music alone makes the game incredibly more pleasant. Granted, it can get repetitive, but it's just catchy enough that it makes the game more enjoyable. The goofy sound effects that pervade the game might make you laugh the first couple times, especially since the whole package is pretty charming for the first 20 minutes or so.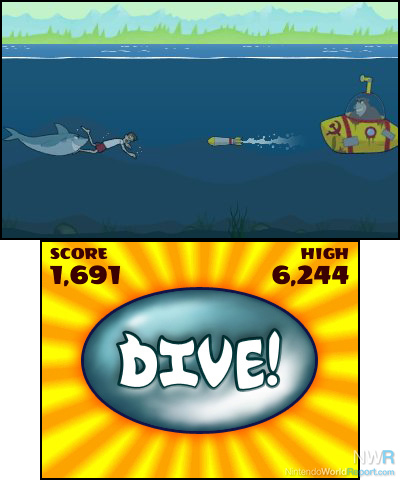 But like all jokes, the game wears on you a few times through (a bear in a Soviet submarine can only make you laugh so many times). After Steve has run through the same two backgrounds six or seven times, the charm of the game starts to fade. It is easy to pick up and play, but it is just as easily forgotten. With little variation, aside from the environments, the game doesn't have much durability.
CollegeHumor's first 3DS game was a big step for them, just not an impressive one. BearShark gives off a great first impression, but first impressions aren't everything. After a while, the game's brand new shine starts to fade, until it fades away to nothing.