The cat's out of the bag - Witch's Cat is hard.
Witch's Cat is best described as a frustrating puzzle game. While the presentation remains relatively simple, each and every level is devious. With vague puzzles, Witch's Cat will only appeal to masochistic puzzle fans.
I don't consider myself a puzzle game savant, but I have played enough of the genre to know that Witch's Cat is harder than most. It is the first title to have stumped me completely, leaving me no choice but to turn to guides for nearly every stage. Beginning in the second world, the levels become intricate and solutions often require knowledge of game mechanics you simply haven't learned yet. The game teaches the basics in early stages, but neglects to show the advanced techniques needed later. Witch's Cat offers little in the way of hints and provides no way for you to get past a spot you are simply stuck at.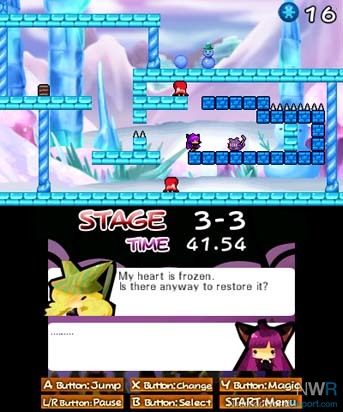 The main protagonist, Alicia, can use magic and transform into a cat. These abilities are varied to the point where you can get around levels in more than one way. This alleviates some of the frustration of puzzle solving, but also brings about a whole new problem. Each level limits the amount of magic Alicia can cast, creating a secondary objective. Not only must she make it to the exit, but you must also manage the magic points allotted at the start of the stage so that the final puzzle-solving spell can be cast. This layers additional difficulty over what already was proving quite a challenge.
Thankfully, the game looks and plays great. The tight control system makes you feel completely in command. When you make a mistake, you know it was your fault and not the game's. The game's sprites look great in both 2D and 3D, and unlike some 3DS games, it looks far superior with the 3D effect turned up.
Witch's Cat is brutally difficult, and frankly too much for me to handle. While I cried my way through several of the levels, I came to find that the game is well designed, but severely lacking in explanation. With a hint system, or maybe even the ability to skip levels, Witch's Cat may be more approachable, but without those, most people should steer clear.