Discover countless ways how not to solve a puzzle.
Sequels. Nowadays, we expect them to be the same as the previous game, with some rough spots now polished and a continuation of the story. But long ago, game sequels could completely overhaul major aspects of the original's design and gameplay. Toki Tori 2 is such a sequel. Forget what you know about the first Toki Tori if you've played it, as most of its elements have been cast aside. The only things returning in this sequel are the adorable yellow bird who can't jump, and fiendish puzzles.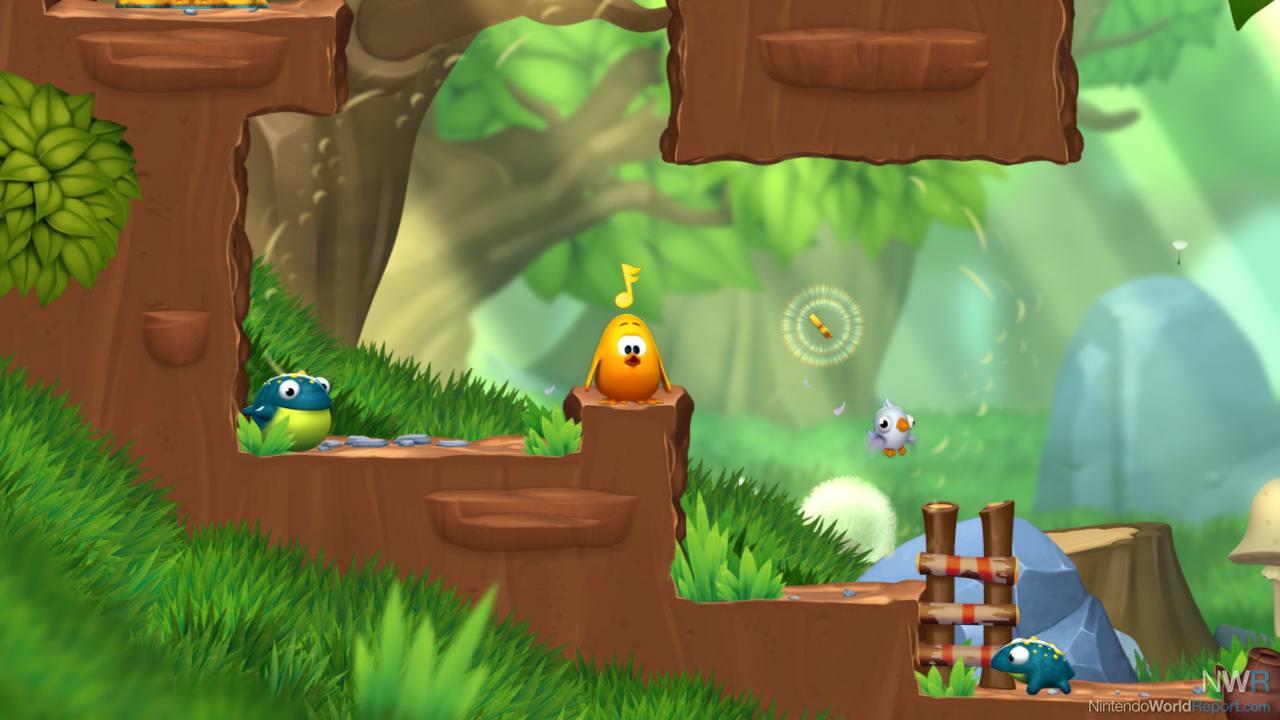 Toki Tori 2 loses no time in preamble. As soon as you launch the game, you are thrust into its world with nary a cutscene explaining the story or tutorial explaining the controls. It is no use bringing up the online manual either, as it doesn't say anything you won't figure out very quickly for yourself. Experiment with the controller to discover that the titular Toki Tori is limited to two actions: whistling and stomping. As for the plot, explore a bit and the diminishing population of yellow birds as plumes of lethal black smoke rise out of the ground tells you all you need to know about your motivation.
You would think that being limited to two actions would translate into simple and easy puzzles, but the genius of Toki Tori 2 comes from the ways whistling and ground-pounding affect the critters and environments of the game's world, as well as from the variety of ways these elements are combined to create new situations. Many puzzle games pad their lengths by repeating puzzles, but developer Two Tribes understands that puzzles are only fun to solve once, and took great care making sure that each solution to a puzzle comes up once, maybe twice. Many times, I was fooled into thinking "oh, I've solved a similar puzzle earlier" and sat there befuddled for an instant as one additional element I had failed to notice in my haste ruined my best laid plans.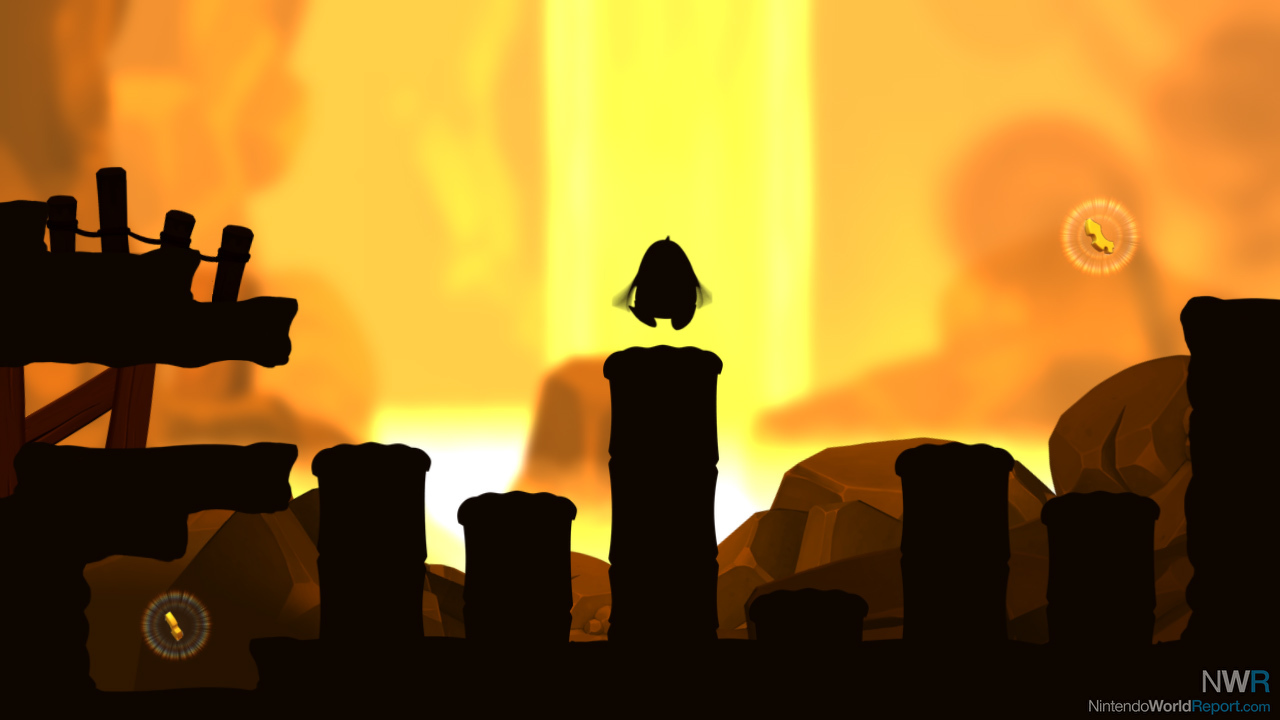 Toki Tori 2 is not an easy game, but it is not unfair either, and problems that initially appear impossible have solutions that, in hindsight, are often simple. Since the game doesn't tell you anything and has you discover everything for yourself, observation is key. Sure, initially your limited abilities are used in very conventional ways and have you moving blocks around and pounding pegs into the ground, or attracting/repelling the critters populating the game to achieve your goals. But these basic puzzles quickly make way for ones that have you leverage all the different ways that various critters interact with each other, or necessitate that you pay attention to apparently trivial details. Can the delay between bats locating you and their attack help you in some way? Is it important to note that Toki Tori takes an awful lot of time to dry up after being in water? What about frogs stopping momentarily to croak in conversation every time they pass by one another? Is that significant, or is it just cute as heck?
The pacing and difficulty curve of the game are impossible to judge, as they are entirely dependent on the player. I recruited help after being stumped for hours by a puzzle. Both of us tried to solve it every which way. Frustrated, we resorted to doodling the various possibilities to work out the solution, to no avail.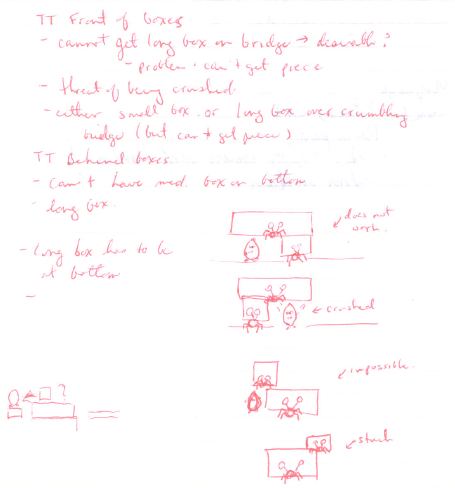 This should not be necessary. If you find yourself stuck after trying a hundred tiny variations on a solution, or if your solution seems just too difficult to pull off, stop. It is likely that you are tweeting up the wrong tree. The puzzle that stopped our progress for so long ended up being much simpler than we had realized. We has simply failed to notice a crucial aspect about the environment. It's hard to blame the game for being too difficult when, once you've figured it out, the solution makes sense and has you think you should have thought of it earlier. I think most people will get stuck at some point in the game and my advice when that happens is to just think hard about what it is that you need to accomplish, and what it is that prevents you from doing it. Should the frustration prove to be too much, well, help should just be one Miiverse post away.
I would advise against seeking help, however. I initially bemoaned the lack of a hint system but the fact that I was still having fun despite one puzzle bringing my progress to a grinding halt for hours speaks volume. Toki Tori 2 demands a lot from players, more than the vast majority of modern games do. We have come to rely on games holding our hands and pointing out what to pay attention to as soon as we come across a puzzle, before we've had the chance to work it out. Allow Toki Tori 2 to remind you just how satisfying it can be to solve a clever puzzle entirely by yourself. This opportunity is all too rare today.