Has its ups and downs.
Coaster Creator 3D lets 3DS owners create and ride their own roller coasters. I had low expectations after the much maligned Roller Coaster Tycoon 3D but was pleasantly surprised by Digital Gamers efforts.
Coaster Creator offers up two modes, Career mode and Sandbox mode. The former is comprised of dry challenges; the latter is a fun creation tool. Career mode has you working for Mr. McGee, an old man who brought you in to bring life to his old coasters. Challenges vary from hitting certain theme park checkpoints on a coaster to having one vary its speeds. While you don't need to play Career mode to build coasters in Sandbox mode, Career mode is the only way to unlock all customizable parts for Sandbox mode.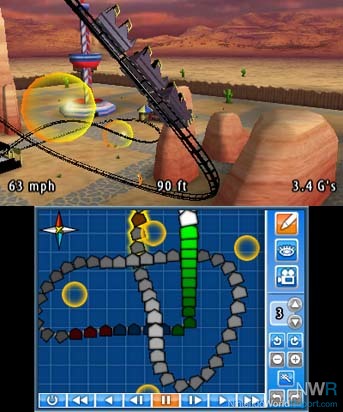 The vast amount of customization in Sandbox mode makes Roller Coaster Creator 3D shine. When building a coaster, every part of the design is up to you. Even after you draw the layout, you can still adjust the coaster's turns, drops, and loops and design the park around your creation. Sadly, the park you design is largely inconsequential considering its sole purpose is to provide decoration to look at while riding a coaster.
The visuals of Coaster Creator 3D are quite decent. The coasters are realistic looking but with cartoony colors. Character models are quite ugly but can be replaced by Miis after a certain point in the game. The 3D is hit or miss, though; heavy ghosting appears when the 3D slider is moved to the maximum setting.
There is one part of Coaster Creator that is truly terrible, and it goes by the name of Star Roller. It is a mini-game that has you collecting stars while riding your coasters. This mini-game is absolutely pointless. You do not unlock anything or have any semblance of fun playing it.
Though Career Mode is tedious and makes unlocking new elements a chore, the customization options and freedom you have when building coasters are worth the fuss. Coaster Creator 3D is a fun tool for any coaster fan or theme park enthusiast.