A collection of games? Sure. Playable in 3D? Not so much.
The 3D Game Collection is not bad, with a good amount of games for its asking price. However, the game fails to stand out in a crowd of much better software.
The collection offers 25 different activities to choose from, which can all be played on your own. Half the games available don't require other players, with Sudoku, Mahjong, and Find Pairs being prime examples of easy pick-up-and-play software. The amount of puzzles is all right, but the games themselves don't hold your interest for long. While collection also contains versions of Four in a Row, Mastermind, Connect Four and many other multiplayer games, these can't be played with friends either, even by passing the system to someone next to you. While the AI does the job well enough, it becomes rather boring to play alone, and your computer opponents like to cheat once in a while. You might enjoy yourself occasionally, but don't expect to have an exciting time.
While going through the package, one good thing became obvious, though: the developer cared about the games, and made the versions very respectable. From a technical standpoint, there was little wrong with how the various elements were presented. Games like Sudoku and Spot the Difference had proper penalties for failing to do the correct thing, which makes finding the solutions more rewarding. These penalties prevented me from carelessly tapping away at the puzzles and ensured I was paying attention. 3D Game Collection provided an interesting challenge at times, and some games certainly made me want to come back for more. Minesweeper and Solitaire are always addictive, and there is no exception here.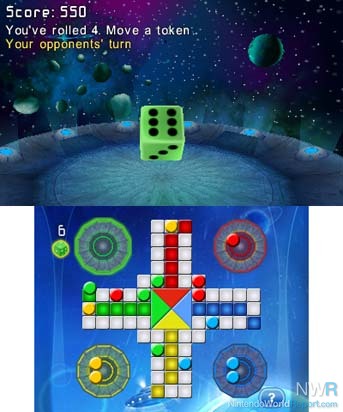 However, the game doesn't do anything with the 3D capabilities of the 3DS to keep the player involved, as the three themes on the 3D screen are mostly just distracting. All of the gameplay uses the stylus, which works quite well, so you will just be focusing solely on the touch screen. Even if you take a gander at the top, there is no variety. The same can be said the music, which features three tracks with short loops.
3D Game Collection didn't do much to impress me, nor did I find myself wanting to play it more often. It did provide an interesting distraction for short bursts of time. The game's variety of content makes it hard to feel ripped off, but don't expect a steal.