No giant robot spiders, but this is certainly a wild, wild west.
Gunman Clive eschews what we've been fed to believe are the makings of a nostalgic platformer. Despite a clear understanding of its influences, it never flaunts them or screams, "Hey, look at how old school I am! Aren't I old school?" There's no retro sprite work, chip tune music, and no pandering. Clive is a successful attempt at continuing a genre we don't see much of anymore, a genre with which other developers often focus on tickling our 8-bit fancies instead of capitalizing on what's really important.
Gunman Clive puts you in control of Clive, a fearless cowboy forced to save his girlfriend from bad guys, as you run, jump, and shoot your way across 20 levels. Gauging Gunman Clive as a simple throwback or parody, however, will only lower your guard for how off the rails this train goes (which is ,considering a train does indeed forego its tracks to attack you). You start off with an unassuming pea-shooter, but random enemy drops provide power-ups that upgrade your weapon in interesting and unexpected ways (though these power-ups occasionally fall from airborne enemies into pits).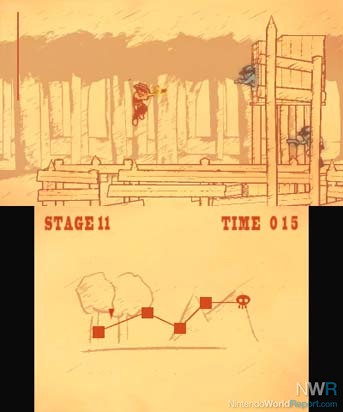 What starts as a tale of cowboys quickly becomes a death machine that would make Dr. Wily proud. Gunman Clive feels like an adventure and doesn't let issues like a consistent theme get in the way. The shanty towns and rocky terrain of the initial levels are later injected with disappearing blocks, gravity shifts, and paralyzing electric pulses, and soon enough the game's world becomes unrecognizable from those early goings. The game's aesthetic is pleasant in its consistencys, presenting a scratchy world composed of few colors, and enemies that stand out in their soft, watercolor design. If holding one's attention is a game's greatest goal, Gunman Clive succeeds with aplomb.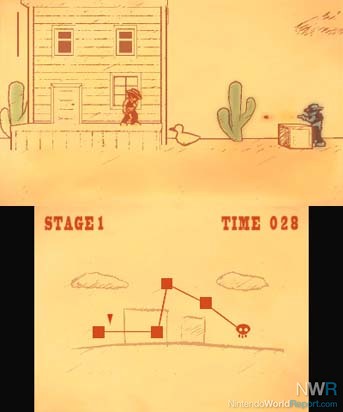 As mentioned, Clive handily marries the old and new. Difficulty is a tricky aspect of any game, but in the case of retro-inspired works, it often misinterprets what developers of old were attempting. Gunman Clive pays respect to this particular memory, but is also equally progressive. The difficulty selected (easy, medium,or hard) determines your character's health level, and there is no life counter. Stages don't have checkpoints, but instantly restart upon death and are bite-size in length. The game's difficulty comes from the design of its stages, not unneeded frustration masking itself as a nod to the past.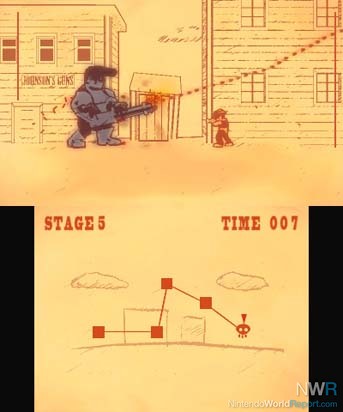 I don't like discussing a game's length, but this game's has been an issue for some. Gunman Clive is a very short title. However, that's only if you're basing it off a single one-hour playthrough. Players are afforded the ability to play as two additional characters, one which controls differently from Clive, and another that unlocks upon completion of the game and greatly changes how you play (I don't want to spoil it, but it's very whacky and suits the title perfectly). I'd argue that its brevity is also due to a lack of fluff- Gunman Clive may be concise, but it creates the same amount of fun I've had in much longer titles.