If you love construction work and puzzles, you may enjoy this game.
Jewel Master: Cradle of Egypt 2 is a match three style puzzle game for the Nintendo DS published by Rising Star Games. The game aims to make this style of puzzle game more interesting by introducing a new mechanic: accumulate resources to construct Egypt. Sadly, building a civilization by playing puzzles is a quite tedious affair.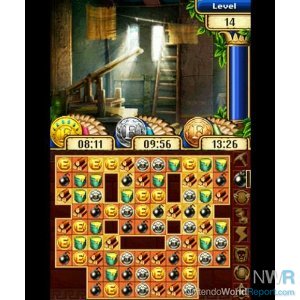 Match three games are simple. You swap icons (or in this case jewels, tomatoes, and other items useful for civilization building) in order to match three or more in a row. There are multiple obstacles while playing each puzzle that vary from level to level such as multiple table designs, which alter the placement of jewels, and locked symbols, as well as items to be earned that can help you, like bombs. These items are earned during the puzzles by matching certain jewels so unless you purposefully work for them, they won't be used much. As a match three game, Cradle of Egypt 2 more than succeeds in delivering well-made puzzles.
Cradle of Egypt 2 also boasts a nice amount of content with 100 stages in the main campaign mode, called Adventure Mode. A Tourney Mode also exists where you re-play levels from Adventure mode to earn trophies by completing levels under specific time limits. Unless in-game awards interest you, these trophies don't amount to much. Another mode, called Blitz mode, is unlocked after you finish the game, and gives you the option to replay the same levels in a row, yet again, within a limited time frame.
The visual presentation is fair, as different scenes of ancient Egypt are placed on the top screen in order to add atmosphere. The music is not too annoying, but the game is just as enjoyable without it. Menus are easy to navigate and let you get right into the puzzle action. Through a tiny icon on the main menu you can also access in-game achievements which are split between trophies, and citizens who unlock bonuses in Adventure Mode.
The game unfortunately falters in the main conceit of constructing Egypt in the Adventure Mode. You earn resources based on which icons you match while playing through the levels, which resources can be traded to build buildings in each epoch. Unfortunately, trying to match the same icons repeatedly can become tedious. What keeps this idea from truly succeeding, though, is that building structures really only gives you more resources. The reward is more tedium, and there is no real reason to build anything unless you want to fill a map. Thankfully, construction progress does not dictate you when you get to move to the next level -- only finishing the current level does. While the idea was a sound one in theory, it was a detriment to the overall experience.
Match three games are common enough that developers really have to do something special to stand out. Cradle of Egypt 2 tries to perform this task by letting you build Egypt, but it doesn't really succeed. This puzzle game formula still works, but nothing particularly new is offered here. If you are a fan of match-three games, you will enjoy the puzzles but not much else.