Disney definitely missed out on the perfect Tron tie-in game.
I feel my first experience with escapeVektor on 3DS is a perfect example of what works well about Nnooo's debut 3DS eShop game. I booted up the game, and thought the setup was charming: a meta piece of code named Vektor is trying to escape from the 3DS' CPU and needs your help. After that, I played the game for three hours, pausing sparingly. While nothing extraordinary, this game is addictive and fun.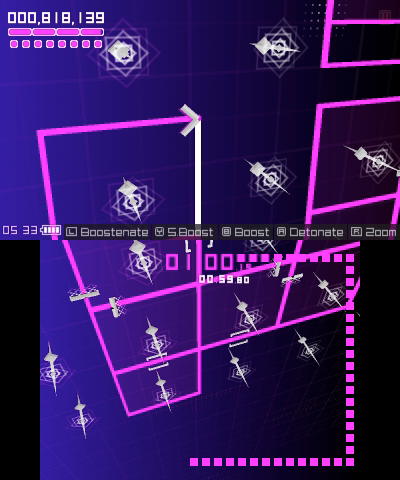 You could describe escapeVektor as a Tron-like twist on Pac-Man, but under the surface, it's much more. You travel along grids, avoiding enemies and obstacles, with the intention of claiming each length of line by moving over it. At first, it's a simple test of efficiency in leading your arrow-shaped avatar around the levels, but it quickly develops into a chaotic landscape of patrolling enemies and rhythmic traps requiring precision, strategy, and quick wits.
Progressing through the game's 27 zones (worlds) and 150 nodes (levels) earns you new power-ups with which to fight against the increasingly difficult obstacles. Early on, your avatar earns the ability to detonate a bomb to destroy nearby enemies. As you gain experience, the blast radius expands and more bombs are put at your disposal. However, launching a bomb claims any squares you've outlined, reducing your chance at gaining a high score. It's an effective risk and reward mechanic that tests your ability to get the highest score you can. You can also boost, and "boostenate," which combines the boost and detonate powers to glorious effect.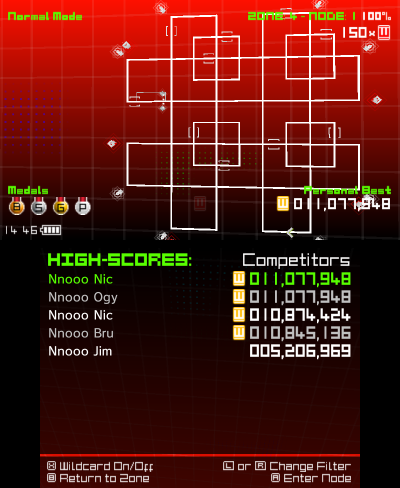 Outside of the linear progression through levels, escapeVektor also features a well-integrated leaderboard system. Online rankings display almost immediately at the end of every level; even if you're not in Wi-Fi range, the game caches leaderboards so you can still see what the top scores were when you last connected. The caching doesn't seem to work all the time, but it's a nice workaround considering your portable system might not always be near a hotspot.
The game's view of the action troubled me the most. By default, the view is more zoomed in than you may want, making it difficult to see what is around your character. You can zoom out a little bit by holding the R button, but considering I spent the majority of the game with my finger glued to 3DS' right shoulder, a toggle may have worked better. Even still, sometimes I would have missed one fraction of the level, and the zoomed view would restrict me from seeing it.
Minor issues aside, escapeVektor still packs a lot; in addition to the story and online leaderboards, the game features a variety of achievement-like badges, and every level has four high score medals. It starts off simple, but by the end of the experience, you have a wide variety of tools at your disposal to attack levels. Most levels don't take longer than a minute or two complete, making it a fantastic portable game with a novel twist.