The thing for a smart girl to do would be to not play this game.
With the advent of smartphones and tablets, many young children and their parents are moving away from dedicated handheld devices for their gaming needs. Still, UFO Interactive has released Smart Girl's Playhouse Mini, a title specifically catered toward young girls, mainly the preschool and kindergarten range.
The game is a collection of six activities of varying depth. Perhaps depth is the wrong word choice here, as there basically isn't any. Regardless, the six activities consist of Drawing, Counting, Find Differences, Lunch Box, Dress Up, and Coloring.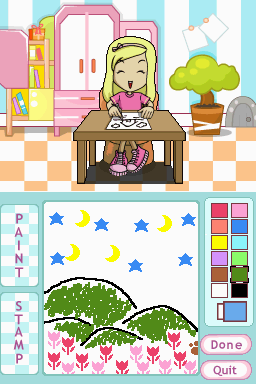 Drawing is what it sounds. You have a blank canvas to work on, and you can use tools such as a pencil, a fill tool, and various stamps. Unfortunately, you can only save one creation at a time, and if you want to delete your current saved work, you have to manually erase everything.
Counting is a simple educational exercise where the top panel displays a certain object and 10 panels below it turn over. Your job is to look at the object in the top panel and count how many there are in the bottom 10 panels, and select one of the three answers.
Perhaps my favorite activity was Find Differences, an exercise most people are familiar with. You get two pictures, one on the bottom screen and one on the top, with not so subtle differences. Finding and tapping each picture's five differences will give you a win. Be careful, however, as you lose if you get five strikes.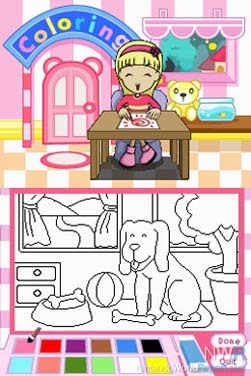 Maybe the most useless distractions in Smart Girl's Playhouse Mini are Lunch Box and Dress Up. Both have you simply picking and choosing objects with no reward whatsoever. For Lunch Box, you select a lunch box, the inside color of it, the main food, a drink, a snack, and a fruit. That's it. Dress Up doesn't fare much better as all you do is mix and match four different items in the categories of hair, shirts, dresses, and shoes to doll up the on-screen character.
Finally, Coloring has 12 different black and white pictures that request that you color them with a selection of 12 colors. You can have an enjoyable time coloring in monkeys and dogs to your heart's content.
Obviously I am not the target audience for Smart Girl's Playhouse Mini. However, I fail to see how the game could even engage preschool or kindergarten girls for more than any length of time. Some of the activities in the game are purely without merit. To put it in the simplest of terms, there are cheaper alternatives available that are more accessible and offer more entertainment than what is available in Smart Girl's Playhouse Mini.