Tile matching madness has invaded my 3DS, but is that a good thing.
If you browse the eShop today, one type of game can be found everywhere: puzzle games. This sea of puzzlers comes complete with some great and terrible titles. A lack of interesting gameplay pushes 3D MahJongg to the back of the pack while its addictive nature pulls it forward.
If you have played Mahjongg before in the past, then you are already familiar with half of this game. Match two tiles that are uncovered and accessible from either the left or right side and they can be removed from the board. Once you remove all the tiles you win. This mode of play can be both rewarding and frustrating. If certain tiles are not matched with each other it will leave you stuck at the end of the game with unmatchable tiles. This wouldn't be bad if you could learn from your mistakes and give a level a second try; but when you restart a stage all of the tiles are randomly placed, and you are back to square one. This resetting of the stage can be avoided by undoing every single move, but I think the restart button would be better suited to that task.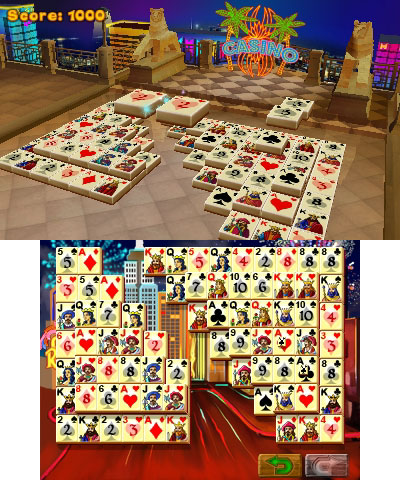 Thankfully 3D MahJongg allows you to change the rule set and play with "Rivers" rules. Matching tiles in this mode is more complicated but there seems to be no way to fail (it has not happened to me yet), ultimately acting as the game's easy mode. The great part about "Rivers" rules is the speed at which you can blast through puzzles. When I had a minute or two I could bust out my 3DS and blast through one or two puzzles. These dual game modes gave me the chance to play both quicker and longer games of Mahjong when I had the time for one or the other.
Unfortunately, these two game mode are as far as the gameplay in 3D MahJongg goes. Through the game's adventure mode you can unlock additional layouts, tilesets, scenes, and backgrounds. All except for the tile layout, these offer no change to gameplay and only act as an aesthetic change. High scores are recorded for each level but a lack of online leaderboards means scores don't matter unless you are sharing your 3DS amongst others.
The backgrounds and tiles look really nice on the 3D screen, except you will never really see them. You can only play the game using the touchscreen so looking up at the top screen is not something you will do very often, ultimately making the 3D effect an afterthought. I am not saying I would want to play the game using the D-pad - the touch controls work really well - but the 3D effect and display on the upper screen feels unnecessary.
I like 3D MahJongg because of the fast paced "Rivers" rule mode. Aside from that, I feel like the game doesn't provide much more to entice players. Collecting backgrounds and different layouts by playing through the adventure mode has no worthwhile appeal. 3D MahJongg will become a great game to waste my time on when I have a minute or two to spare, but nothing more.