One of the best games in the past decade gets an even better 3DS release.
Cave Story, available as a 3DS eShop title, is the third version of the game to appear on Nintendo handhelds. The first was a DSiWare release of the original version of the game, and the second was the 2011 3D retail release. Both earlier versions of the game had their merits, but at this point, they're just about worthless because Cave Story on the eShop is the definitive version (at least until they do some other re-release).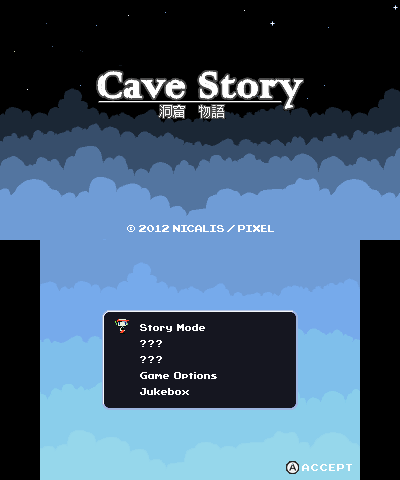 For the uninitiated, Cave Story was originally a freeware game made by Daisuke "Pixel" Amaya in 2004. It was beloved, and eventually Nicalis remade it for WiiWare and DSiWare in 2010. In 2011, Nicalis remade the game with 3D character models for a retail 3DS release and also released Cave Story+ on Steam, the latter of which is the basis for this new 3DS eShop release.
The game itself is comparable to seminal 2D works such as Metroid, though its story is a little more guided than that game's. The hero has a variety of guns he can wield, and you learn a lot of fun combat and traversal tricks as you progress. The game features multiple endings, branching paths, and delightful 2D platforming gameplay. For anyone who has any interest in 2D platformers, you should have played this; if you haven't, what are you waiting for?
On the eShop, Cave Story features the original version's graphics and music, but retains all the content (including the Wind Fortress and Curly Story) of the Cave Story+ Steam release. A few more additions sweeten the pot, including optional widescreen graphics, customizable controls, and wonderful stereoscopic 3D backgrounds. Still, there isn't really anything new or unique to this version outside of some bells and whistles.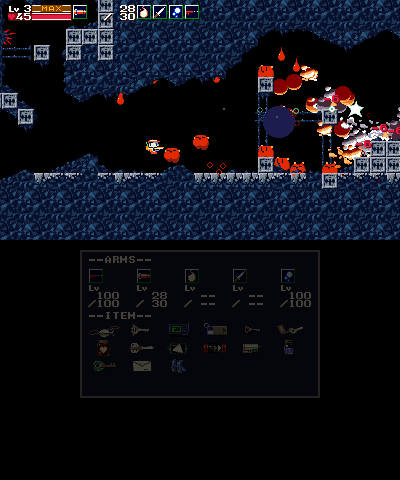 The use of 3D is masterful, as there are multiple layers of depth that make the simplistic 2D game look full of life. It might not add anything to the gameplay, but the 3D straight up makes Cave Story a better experience. The widescreen graphics, which fill out the top screen, are similarly effective.
Even without any additions, Cave Story is still the same amazing game people have raved about for eight years. It's one of the best 2D platformers in recent memory, and this version is worthwhile if you've never played it before or are itching for a reason to play it again.