Sometimes, simple is good.
3, 2, 1... Words Up! proves that sometimes, having a simple concept and solid execution is enough to stand out. In this game, players have the challenge of creating as many words as possible with a given set of letters and in a given amount of time. The longer the word, the more points you get. Yes, the concept is a simple one, but that does not make it easy.
The game comes with two basic modes of play: Classic and Blitz. In Classic, sets of letters are provided; by selecting the letters and spelling out words, players see how many words they can string together before time runs out. If one set of letters becomes exhausted, there's the option of using a new set before time runs out. In Blitz, the set of letters is changed automatically every couple seconds, which will really get your mind racing.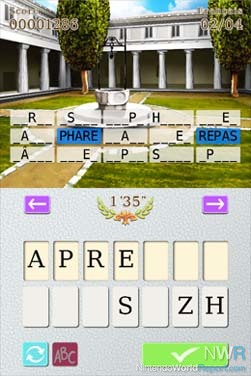 I can see four words. What about you?

At the end of each of the games, the high score board is shown, giving players something to beat each time they play. The option to play in English, Spanish, Portuguese, Italian, or French is also available.
I don't think of myself as a wordsmith or anything like that, but I did enjoy 3, 2, 1... Words Up! With a clear presentation and surprisingly addictive gameplay, I found myself coming back to the game once a day to see if I had improved. It's at least a great way to warm up your brain in the morning.