It looks great, but feels a little stale.
After so many kart-racing games, it was jarring to return to a game where the only rule is to drive fast. VectorRacing reminded me that this style is not necessarily boring, but it did confirm my distaste for the genre as a whole. It may look great, but accelerating and turning left and right does eventually grow old.
Even while carrying this general dislike, I still found some things to love about VectorRacing. First and foremost, the visual style is very compelling. The vector graphics – featuring a simple black background with all models built out of a few lines – is gorgeous in 3D. While racing, you can switch between three different camera angles: two third person views and a first person view. The first person view really makes the 3D pop as you are nearing an opposing racer.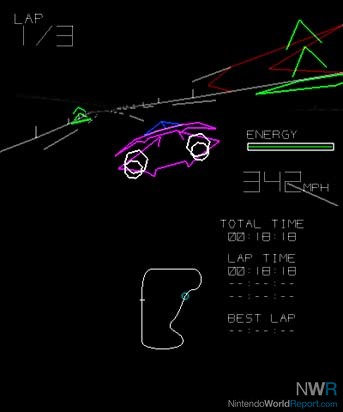 As previously stated, the gameplay is not nearly as interesting. Whether in the grand prix or the single race mode, expect to do the same thing: complete the required number of laps while racing against five other computer players.
During each race, you will rarely interact with the AI. You only do so when passing them, which puts you at risk of hitting their vehicle. Your car can take damage from smashing into both the walls and your opponents. However, it is difficult to deplete your health when hitting a wall actually takes effort and there are no other obstacles on the track.
There are six cars and twelve tracks to choose from. While not the widest variety, it certainly gets the job done. Each car has different specialties, and you will most likely find a favorite rather quickly. Some tracks have sharp turns, so I went for the vehicle with the best handling. The tracks themselves are rather stale, as nothing gets in your way and most consist of the same basic elements: a straight road with an occasional turn.
A time trial mode also encourages you to race against yourself to see how quickly you can complete a race or lap. The game offers the ability to connect online and see how your times match up against people around the world, which is a nice touch. Racing online is out of the question, but you can play locally. Unfortunately, each player will also need a copy of the game.
VectorRacing has impressive visuals and an online ranking system that adds some replay to the title. However, the game became repetitious as I moved towards higher difficulty levels, ultimately preventing me from loving it. While not the best out there, it is definitely worth the attention of any racing fan.