I traveled to the abyss, and am ready to come back out.
Abyss takes players deep into the dark unknown; however, the depths to which players venture are significantly greater than the game's own depth. While challenging, Abyss only has one goal: navigate winding tunnels to reach the inevitable end of a level. The game is fun but simple, ultimately providing a slightly better than mediocre experience.
In each of the game's 12 levels you pilot a small vessel by rotating (with the D-pad) and accelerating (with any of the four face buttons). You navigate through precarious pathways while collecting six objects on your way to the goal marker. The physics are hard to grasp at first, but I soon found myself familiar with how to keep my ship in flight and not crash.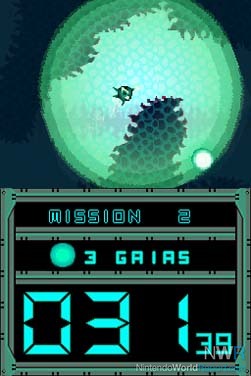 The "Gaia" you collect throughout each level provides light so you can easily see where you are going. This light will slowly diminish, lowering your visibility. When the light isn't on, though, it isn't drastically harder to see. The stages, for the most part, are only comprised of empty space and walls. Sometimes you encounter other obstacles: namely, blocks that slide back and forth.
Leaderboards encourage you to replay levels, though they were not much of an incentive for me. A speed run mode, which spans all 12 levels, is unlocked after beating the game. While this seems like a good idea, it proves to be more trouble than it's worth. If you want to complete the speed run, you must finish all 12 levels consecutively without dying once. In a game that is hard to begin with, this mode is complete and utter torture.
Abyss is fun while it lasts, but could better itself with a more complex design. I enjoyed my time with it, but have no plan to return. I wouldn't regret delving into Abyss, but I sure wouldn't want to stick around too long.