Take one helping of Madden 12, extract online play, plate and serve.
Madden on Wii is a strange beast. In some ways, it's a tremendous downgrade from the version of the game that has been releasing on HD systems for the past few years. In others, however, it's a breath of fresh air. More than anything, though, it's a game of football for football fans who don't feel like they should have to learn so much about the game that they belong in a coach's office. Madden on HD systems is NFL football for students of the game who know the subtleties of the different defensive packages and understand how each of the offensive plays are different and when to call them. On these systems, Madden (and its little sister, NCAA Football) is more of an RPG with football trappings than an actual football game. Madden on Wii is an NFL football game for everyone else.
Madden NFL 13 on Wii is bursting at the seams with gameplay modes and features. There are three separate modes for local multiplayer, including what is effectively a multiplayer Franchise mode. Also included is an achievement system for unlockable bonus items. Most of these features are more or less identical to those of Madden 12 on Wii. In fact, if you have last year's entry for Wii, you will want to think twice before investing in Madden 13, as they're incredibly similar. Madden 13 actually lacks one major feature of its predecessor; despite having online multiplayer in years past, the mode is completely removed from Madden 13. Luckily, roster updates still pull from the Internet. If you can overlook the lack of online play, there's a lot to like in the game. Aside from the obvious exhibition game, you can also play a game of five-on-five, which feels like a throwback to NFL Blitz with its big plays and limited options. This is a fun little mode that has since struck out on its own as a downloadable title, Madden NFL Arcade, on the HD systems.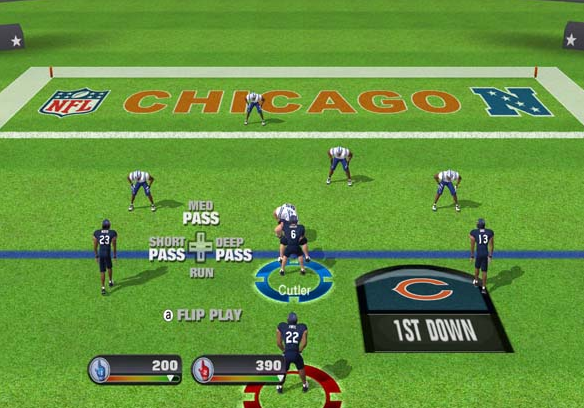 Also present, just as in last year's game, is Franchise Mode. The revamped version of this mode, introduced in Madden 11 on the system, is visibly designed to suit the Wii. The interface is laid out as a series of buildings on your corporate campus. Although all of your menus are there, it feels more streamlined than the career modes on the HD versions of the game, even if it's not quite as deep. You are immediately introduced to your advisors, who help you meet your goals for the season financially, on the field and with the fans. It's a nice touch, and it makes the Wii version of the game feel far more user-friendly.
You can play any of these modes with one of multiple control schemes. The default is the Wii Remote and Nunchuk, but also available is a Classic controller mode, a horizontal Wii Remote mode, and an "arcade" mode played just with the Wii Remote. Despite having played many hours of NCAA Football on the HD systems, I found adapting to the Classic controller play style on the Wii a bit overwhelming. I kept trying to play the game like it was NCAA Football on Xbox 360, and it's definitely not that game. The Wii Remote and Nunchuk combination worked best for me as I attempted to learn the nuances of the Wii version of the game and how it differed from the distant relative I was used to.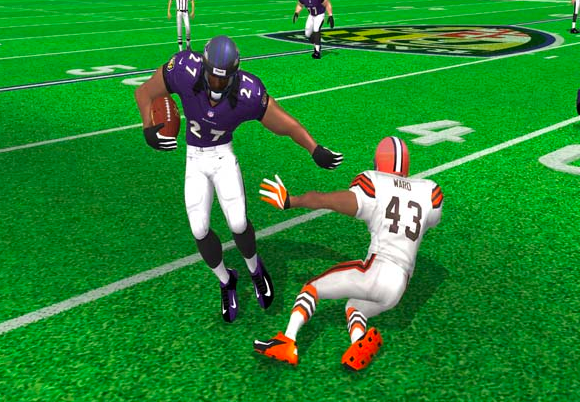 The game plays much as it has for years: fantastic. Madden has, for a very long time now, delivered a top-notch football experience. On the Wii, it feels even more solid because the game is not aimed at the type of player that might nitpick the linebacker pass-awareness AI or the run-blocking by the fullback. Players in Madden Wii feel like superheroes; breaking tackles is as simple as a shake of the Wii Remote. I had players break two or three gang-tackles on the same play, and still bolt downfield 60 yards for a touchdown. The passing game works great on the Wii due to Point-and-Pass, which allows you to select a receiver with the pointer and hit the A button to pass. It might take an extra microsecond to pick your receiver using this method than it would using the Classic controller method, but you'll never get that same "ugh, I hit the wrong button" feeling that seems to hit me at least once a game.
The horizontal control scheme, fondly referred to by Site Director Neal Ronaghan as the "Tecmo Bowl" scheme, is perfect for lapsed football gamers who grew up playing sports games on NES, but haven't gotten back into them in years. All of the important controls are available on the NES-style control scheme, including the ability to cycle through your receivers one-by-one, which does indeed feel ripped straight from Tecmo Bowl. It's really a brilliant move to include this control scheme; it gives the Wii Madden even more of a reason to exist apart from its high-definition contemporaries. This is the version of Madden to bring to your family holidays and not have to worry about spending a half an hour training your cousins on how to control the game. It just works.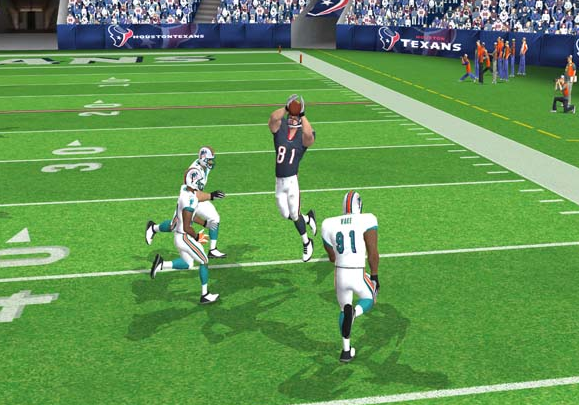 The look of the game is nearly identical to last year. The character models are blocky, and the stadiums seem barren. That isn't to say it looks bad, it actually looks decent for a Wii game, but it's very difficult not to compare to the HD versions if you've played them recently. If you haven't, Madden looks good. It's got a silky smooth frame rate, and animates well.
Madden 13 on Wii is aimed at a particular type of consumer; if you fit that bill, you really can't go wrong by sampling what EA has put together for Nintendo's platform. It's a game that's heavy on fun, light on simulation, and completely lacking for online play. If you're looking for a respite from the stat-heavy, dense HD versions of Madden, or looking to come back to video game football after a long time away, this is the game for you. If you already have Madden 12 on Wii, however, stay away from this game. The well is dry.