It's exactly what you think it is.
Family Tennis 3D is tennis—in 3D—featuring a family. It obviously sounded more than a little boring and inconsequential, but I was also looking forward to seeing another take on 3DS tennis.
The first thing I noticed was the game's Japanese qualities. Everything is sufficiently translated, but the game features an anime-heavy art style, and there are times when characters will yell Japanese phrases with no translation to be found. I kind of like this—it added to the game's quirky nature.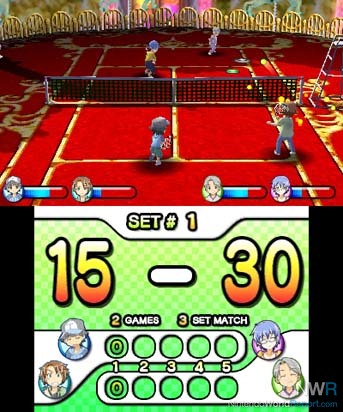 Family Tennis 3D should be fairly easy to grasp if you've played Mario Tennis Open. The game is played on similar courts using a similar perspective and, like Open, relies on using various shots at certain times, and running to marked places on the court. It's a bit simpler, though, touting only three main shots, with a simple shot available for selection via the options menu. Rather than map special shots exclusively to the court, however, each of the eight main characters (representing a member of the family) gets an overpowered special shot—the grandfather (my favorite) hits three balls across the court, but only one is real. Although the controls and gameplay feel slightly clunkier than the recent Mario release, the game maintains most of the fun of its retail brethren.
As an eShop game, the modes for Family Tennis 3D are understandably limited. There are quick matches and exhibition matches in three difficulties (in singles or doubles). Unfortunately, there is no multiplayer, which would have shined with a pick up and play game like this. The main draw is tournament mode, in which you play against four members of the family on one of three difficulties. The lowest is fairly easy, the secondary provides a reasonable challenge, and the hardest difficulty is so hard you can actually determine the specific moment when the CPU decides it's going to win. There are also three mini-games, not unlike Mario Tennis Open. These varied activities are all OK, but they seem like they exist for the sake of a bullet point.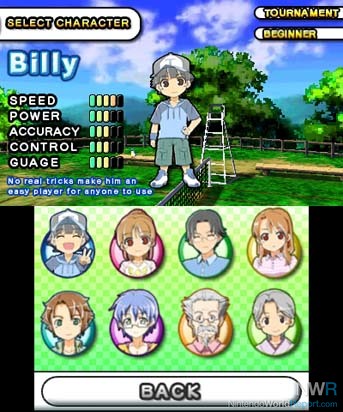 Even if its originality is in question, Family Tennis 3D is competent and fun in small doses. It's rough around the edges, but because of how solid it is, I wouldn't be averse to the idea of simply playing this installed application for 10 minutes rather than digging out a cartridge just to play a bit of tennis.