Cats are stuck in a well, and some of them will stay there.
Cat Frenzy didn't sound especially promising at first. After playing through the mission mode and several rounds in quick play (amounting to a good deal of time helping cats escape from a well), I was proven somewhat wrong. The game has problems, but its premise is simple and makes the game easy to pick up and play.
The tutorial guides you through the game's main mechanic: using the stylus to drag cats around to create rows and columns of three. The DS is held book-style while playing, which leads to a major issue for left-handed players like myself. I found no left-handed option in the menus, and ended up having to reach over my other screen to play the game. Not only was this an inconvenient way to play, but it also covered up instructional text on the other screen.
Left-handed control issues aside, Cat Frenzy has moments of genuine fun. However, the difficulty in the mission mode is somewhat off-putting. Most of the puzzles are intricate, and usually have only one solution. There was a sense of satisfaction when I did figure out one of these more challenging puzzles; however, those I couldn't were more numerous. Thankfully, a hint system can be toggled from the options menu to take away some of the difficulty.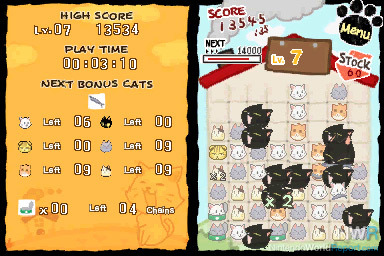 The game has some variety, in the form of special cats. Combining a cat holding a fish with other cats of the same color eliminates all cats of that color on the screen. When in quick play, which features an endless amount of cats falling into the well, this feline type is a great way to quickly eliminate an abundant amount.
Cat Frenzy stands out among similar DSiWare content as a decent puzzle game. Despite the complexity of the game's mission mode, the quick play mode provides a good amount of fun on its own. If you have some time to kill, Cat Frenzy could easily take your mind off things as you mindlessly move cats into rows or columns of three. This game proved I'm not the best at puzzle games, but I still managed to get some enjoyment out of it.