"Some people were born lucky. You better get lucky, or you'll be dead."
Mad Dog McCree, originally released in 1990 as a live-action laserdisc arcade shooting game, is quite possibly the strangest 3DS release to date by a large margin. As far as I can tell, the 3DS is the 11th platform the game has appeared on, with one of those platforms being DVD. The game, while functional and playable in an awful, campy way, is not a worthy 3DS release, using virtually nothing the system offers.
The game is simply a quest to hunt down the villainous Mad Dog McCree in a podunk western town. You play as "the stranger," who uses a six-shooter to dole out justice to all the real live actors playing awful western stereotypes. It's funny and goofy, which makes the experience worthwhile for fans of camp.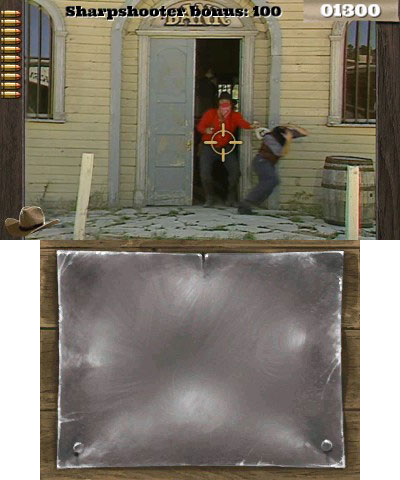 However, on the 3DS, the game gains nothing. The top screen displays the action in plain old 2D—there is no stereoscopic 3D in this game at all. On the bottom screen, you guide a cursor around with the stylus, and then either tap the screen or press a button to fire. There's a degree of precision gained from using the stylus, but it removes the fun and challenge of light gun games almost entirely. It's like if you played Duck Hunt by sitting in front of the screen.
Mad Dog McCree on 3DS might be worth it for folks who want to play the famously awful FMV game and have no other way to do so. But the vast majority of players are better off either ignoring this silly game or tracking it down on a system where light gun games are more fun to play.