Goes together like peanut butter and cat vomit.
In an attempt to create a fun fusion of beloved games, developer Cinemax (most recently of 90s Pool) turns out a game that, as the title suggests, attempts to combine the fast-paced action of Arkanoid with the classic game Snake.
In the process of creating such a union, what they end up with is a simplistic version of Arkanoid. You destroy blocks by bouncing a ball into them with a stylus-controlled snake at the bottom of the screen. A game does not become Snake just because a snake is added, however.
Whether intentional or unintentional, the snake on the touch screen moves slower than the stylus controlling it, to the point where the snake can be up to half an inch away from the stylus pointer when activity on the lower screen is moving quickly. In addition, the fact that the snake can move anywhere on the screen makes for some infuriating situations in which lives can be lost simply from the ball getting caught under the snake. The snake doesn't feel like a snake as much as it does a really bad paddle.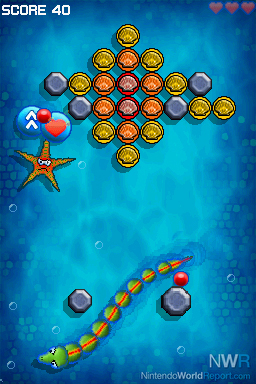 Snakenoid does not make for a good game of Arkanoid, either. The ball moves too slowly, the formation of blocks is unimaginative and claustrophobic, and the experience is overall unexciting.
There is no real difference between the game's three modes, either. Arcade, Challenge, and Unlimited (an unlockable mode) are essentially identical, though challenge mode adds a bit more content to the game's 20 levels that Arcade mode doesn't have, and Unlimited mode allows you to accrue an "unlimited score" and adds slight alterations to the existing levels.
Outside of that, it's all just bad Arkanoid. Despite the creativity in its concept, Snakenoid is absolutely horrible in execution.