The single-player is anemic, and the online multiplayer is filled with lag.
For some reason, the 3DS became the destination for a cadre of fighting games, ranging from Street Fighter to Dead or Alive. Tekken 3D Prime Edition is the latest fighting game to hit the system, and while it runs at a crisp 60 frames per second when you're not playing online, and features 41 characters, there isn't really that much to do.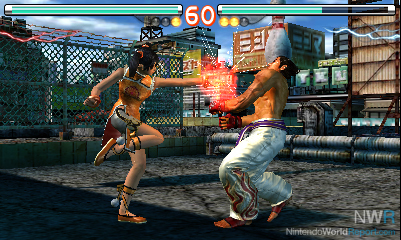 The game offers a few modes, but nothing in the realm of a good single-player experience. There is Special Survival mode, which tasks you with beating a progressively increasing amount of foes in a row on one life bar. Unfortunately, there are only four tiers of this to go through (5 enemies, 10, 20, and 40). This is also, oddly enough, the only mode where you can earn cards and card points, which are used to unlock the more than 700 collectible 3D-enhanced cards. The cards also function as the StreetPass component of the game, but even this is boringly passive, barely offering enough of a reason to care.
The other modes are Quick Battle and Versus Battle, both of which are traditional one-on-one, three-round fights. Quick Battle is exclusively versus the computer, and each character can rank up, which would be novel if there seemed to be any benefit to having a higher rank. There is no story running through Quick Battle, though after you win 10 matches, you hit the credits.
Versus Battle is for local (multi-card only) and online multiplayer. Online multiplayer features ranked and friendly matches. Unfortunately, every single match I played was filled with lag, often slowing to a standstill. Especially since the 3D is automatically turned off for the online multiplayer, the lag is inexcusable, and really hurts the longevity of the game. If you're dedicated, you can likely play through it, but it's truly awful. You might luck out, in a Smash Bros. Brawl-esque way, but it seems like most people's foray of Tekken 3D online will be a lackluster experience.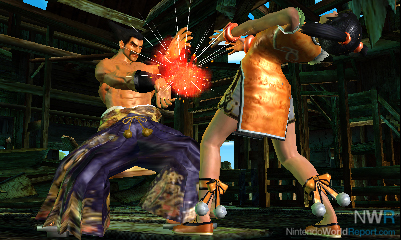 Other than that, there's nothing of note outside of a Practice mode and the 3D movie Tekken: Blood Vengeance. It's cool that the movie is included, but there's not way to quit out and pick up where you left off, so it's a functional nightmare to navigate.
Putting aside the jankiness of the movie controls, the actual fighting controls are fine. The game also makes use of Super Street Fighter IV's touch screen controls, as you can set four moves to appear on the touch screen so you can easily tap to activate them. The game impressively runs at 60 frames per second, but the stages look flat and boring. As far as 3D goes, it basically just adds two layers: one for the characters, and one for the background. Furthermore, the 3D is always turned off in multiplayer so the game can run at 60 frames per second.
If you want to play Tekken against your friends locally on the go, then Tekken 3D Prime Edition is perfect for you. For anyone wanting a decent single-player experience or a consistent online experience, you're better off looking into one of the other fighting games on the system, as Tekken 3D Prime Edition fails both in a single-player experience and online.