All I know about music I learned helping a monkey tell time.
Scroll down to the bottom for a video review.
"I'm not looking for perfect, but if that stupid wad of dough would just hit the ball when I tell it to I could move on to more important things, like interviewing a sweaty wrestler."
"Was it one-and-two three or one-and and-three?"
"Was the pattern small ball, small ball, large ball, or the other way around?"
These are the kinds of thoughts Rhythm Heaven Fever will inspire.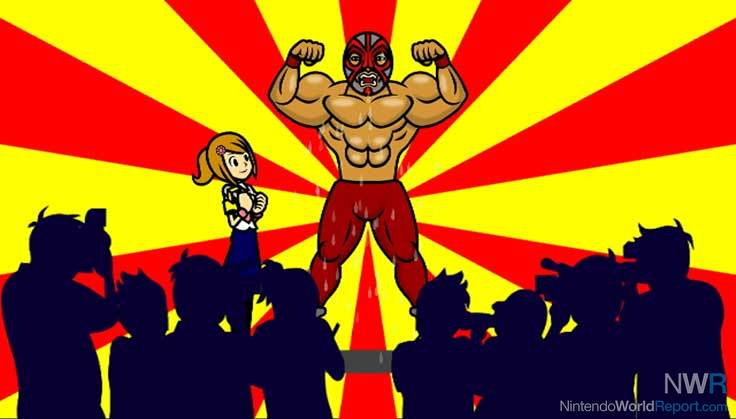 This mountain of a man gives fantastic interviews using only his pectorals.
Really though, all that on-screen silliness is just window-dressing; Rhythm Heaven bores into your soul by having some of the absolute best executions of Nintendo's "gameplay first" philosophy ever constructed. There is nothing particularly complicated about the concept: press the Wii Remote's buttons to match the beat pattern of some catchy music. At the end of each song/game your performance is evaluated and if you pass the next game/song unlocks. Every fifth game is a "remix" that cleverly combines the gameplay of the previous games into one delightful package. It's just hard enough to frustrate but not anger, and just complicated enough to induce struggle but simple enough that any bystander will instantly assert, "Give it to me, I can do this." Too bad for them they probably can't either.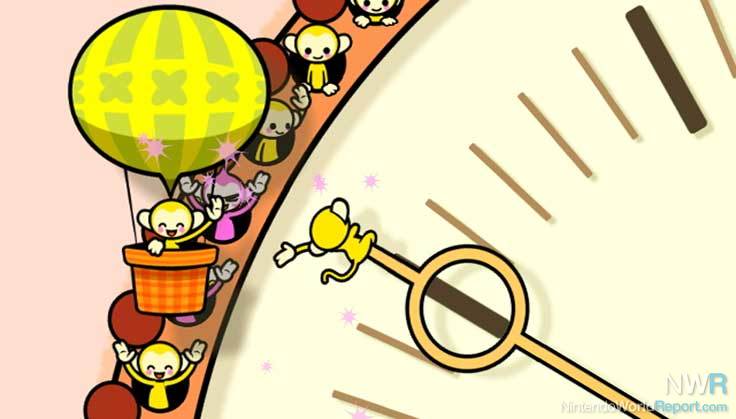 How do monkeys know the concept of time?
Rhythm Heaven's challenge is addictive. Even clearing a stage with a strong score is just an invitation to replay it in an attempt to get the insidiously stressful "perfect" score. From a gameplay standpoint, that really is the entire game, and yet it is so much more. Rhythm Heaven Fever is a fusion of gameplay and presentation that is unrivaled on the Wii.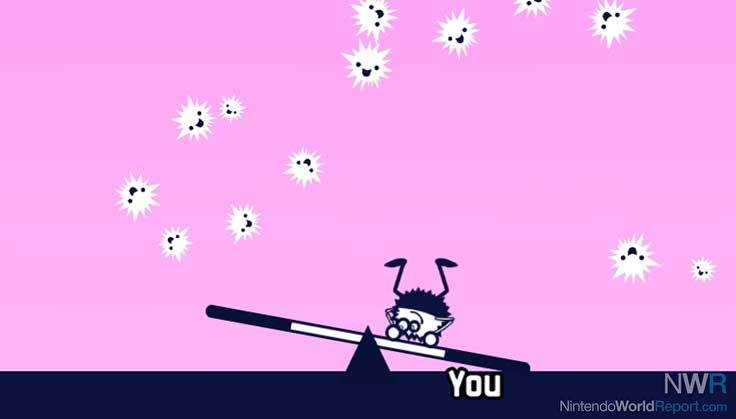 This man/frog/dustball/thing is keeping your children safe from defective see-saws.
At the risk of being accused of heresy, Rhythm Heaven Fever might be the best top-to-bottom soundtrack ever composed for a Nintendo title. It has to be; the songs are effectively the game's stages. Musically clever and decidedly infectious, they're the pulse of the game. The tight integration of music and gameplay allows for an extreme range of styles; from bossa nova to pop to Japanese folk music to blazing guitar rock, these styles provide more than audio variety. These distinctions influence all other aspects of the game, from the "story" of each stage to its gameplay. In fact, your input completes the songs, making this not only a rhythm game but a proper music title.
Rhythm Heaven is also stunningly beautiful. Music blends with art in some of the most sublime ways, be it in twisting a robot's head onto its body or swatting spiders away from boxes of candy (at the not quite convincing "Spider-Free Candy" company). The absurd action on screen sells the music in ways that give the latter extra resonance, with dozens of distinct art styles populating the 50 mini-games. The bright, colorful, active, creative, and hilarious imagery can be almost a detriment for the player. It's hard not to get distracted from the task at hand by some of the details Rhythm Heaven's artists have packed into the game, with the frenetic remix stages blend styles so fluidly it can be disorienting.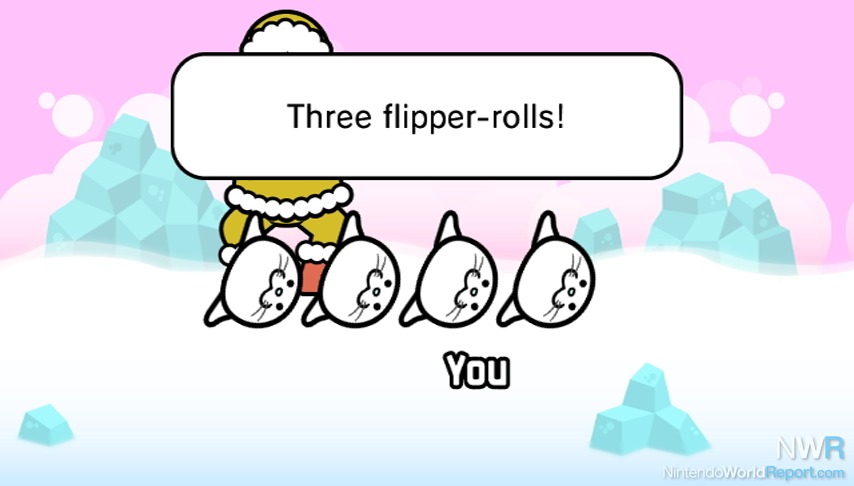 They call this being "a great explorer." I find this a questionable assessment.
Overall, it's hard to imagine a more well-presented title. Everything is polished to a glisten, and the extra work to perfect every aspect of presentation really enhances the simple concept. The precise gameplay is complemented by hilarious scenarios, equally absurd art, and excellent music. Even the writing, which could rightfully be considered insignificant in a game such is this, is legitimately funny.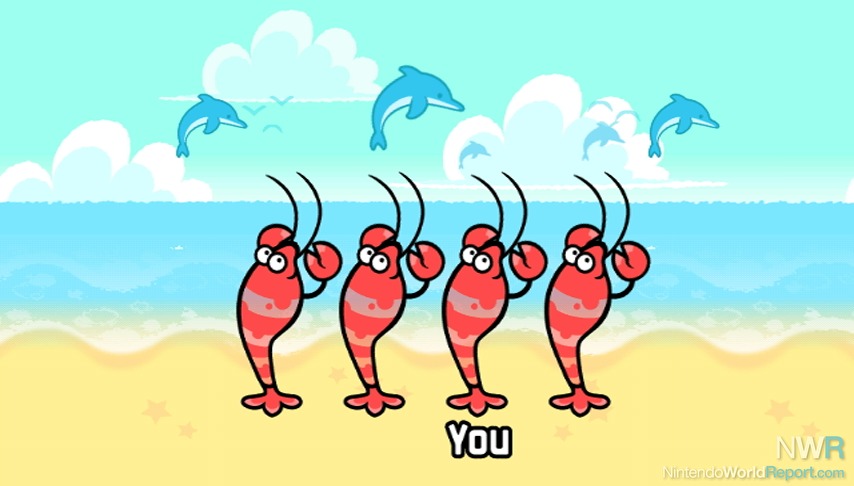 Dancing prawns set to Japanese music? Sure.
The only issues I have with the game seem incredibly minor. The game never uses the B trigger on its own, rather insisting you use either A or A and B at the same time. It also requires you go "Go for Perfect" only at certain times for certain games, much like the comets in Super Mario Galaxy. This Rhythm Heaven isn't much different than the very first iteration, although it does add an intense two-player mode for some games. Still, I don't care. I love this game.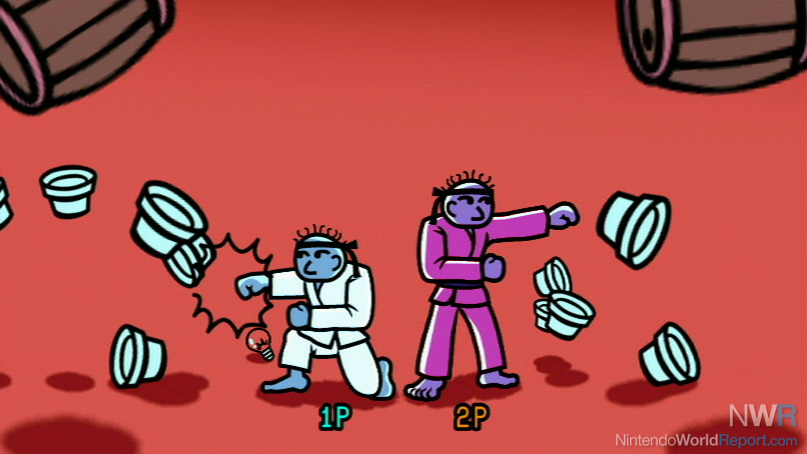 The two-player mode is only for a few games, but it is delightfully chaotic.
This is the most polished game in the Rhythm Heaven series, a series already so well constructed that it has the ability to consume lives. It's occasionally frustrating, frequently hilarious, decidedly beautiful, and monumentally fun. If you own a Wii you need to own this game. Pull it out next time you have friends over; I guarantee it will be more fun than any "party" game, even for those not playing.