We are on the cruise, but does it sink or swim?
Before we begin, I'll point out that I am a gigantic fan of One Piece. I've read the manga and watched the series since long before an English castration translation was even heard of, and I have an absurdly excessive collection of figurines and other merchandise. Thus, it's fair to say that I'll review this game from a fan's perspective—the target demographic for the game. If you're not up to speed with recent events in the story, there may be spoilers. You've been warned.
The story goes that Luffy and his Straw Hat Pirates are invited to participate in the Pirate Grand Prix, a kind of battle tournament spanning across several major islands, to get to the mythical goal of Last Resort and claim the championship title. The premise is paper-thin but serves as an excuse to feature many, many characters and locations from around the Sabaody Archipelago, right up to a mid-war Marineford stronghold (as well as a few old favorite locations), and that's all that counts.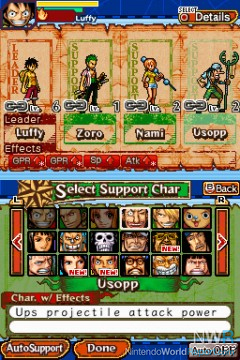 Even playable characters can be unlocked as supports.
This game is a little bit Smash Bros. Melee, a little bit Jump Super Stars, and a little bit One Piece: Grand Battle. You play on a small, multi-leveled stage, where you jump around trying to beat opponents to a pulp. The stages are presented in 3D, while all characters are 2D sprites. There is a constantly refreshing supply of breakable crates and barrels appearing all over the place, containing a wide variety of power-up items and weapons, and the stages are littered with breakable walls, moving platforms and interactive elements. One stage takes place on the deck of the Thousand Sunny, where cannonballs from enemy ships in the background rain down randomly until Franky initiates a Coup de Burst, sending the entire level rocketing through the sky. Another stage is set on the multiple levels of Impel Down with each floor holding its own traps and features, complete with a secret entry to Level 5.5—New Kama Land. Throughout every stage, backgrounds and platforms teem with area-specific characters watching the fray; the amount of on-screen action can be daunting at first.
Controls are simple: jump, block, grab, and one main attack button. Combinations of directions and timed attack presses will perform different attacks, and each character has a large list of moves. On top of this, you can unlock special and secret moves for more power and summon support characters by tapping their respective panels on the touch screen. Supports jump into the action, attack the opponents or bestow some kind of beneficial stat, then quickly exit and begin a countdown timer until they can be called again.
The main area of the game is the Pirate Grand Prix, where you navigate maps and unlock new levels as you go. Each level has a main task, such as "beat these people" or "collect the most items," along with a few secret missions that serve to unlock cash prizes and other bonuses. Completing missions provides experience used to upgrade your character's stats, and collecting money lets you buy special attacks at various shops dotted around the area maps. Not only must you raise each playable character to level 50 to unleash their maximum potential, but every support character can also be leveled up to a maximum of 10. It will certainly keep you busy.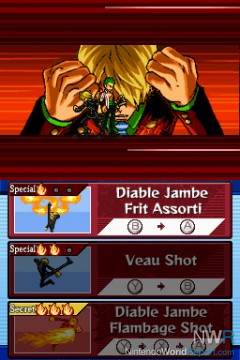 Zoro's in for some serious hurt.
Other modes include a training space used to master each character's attack list, a battle royale with different rules and difficulties, a place to edit and create special pre-selected pirate teams for added stat boosts, and some galleries of voices, artwork, character profiles and music. Several of these smaller game modes also unlock new, secret support characters for the main game.
The localization deserves special note. Much like One Piece: Unlimited Cruise on Wii, the English version retains all the Japanese voices while the text is in English, and the translation is pretty spot-on. There are literally hundreds of little conversations held between characters at the start of each match, which differ depending on who you and your opponents have chosen for both playable and support characters. Fortunately, the uncut names are all retained from the Funimation version—there is no Zolo or Trace or Captain Chaser rubbish to be seen. Strangely, however, Sir Crocodile's cigar has been removed from his playable sprite and several character select images of him, yet it still appears in the Pirate Team edit screen and during the opening movie. Similarly strange is that the game's (and the first anime season's) opening song, We Are, has been taken out of the opening movie and replaced with a dull, generic guitar synth. What makes it odd is that many characters are speaking during the game's intro, and in the English version they silently flap their lips open and closed for a large portion of the movie.
If there's one major complaint to make, it's that multiplayer is restricted to local wireless—this is a game that would be incredible online. Nonetheless, the game allows for single-card multiplayer, and the action is as good as any Smash Bros. tournament.
This is a must-play game for fans of One Piece. With over 18 playable characters and over 52 support characters to choose from, almost the entire game's content must be unlocked, and there are literally dozens of subtle little nods to the source material. To name a few, Boa Hancock's Mero Mero Mellow does not affect Luffy, but turns other male characters to stone. Sogeking's Firebird Star attack can burn down Enies Lobby's flag, which sends the nearby Spandam into a panic. So many intricate details that didn't have to be included in the game, but the thoughtfulness of the developers makes it truly shine.
If you have any means of importing it, be it the Japanese original or the Europe-exclusive English version, get this game. Luffy says so!