Is Zen Pinball 3D the first must-have pinball experience that the eShop has to offer?
Zen Pinball 3D is Zen Studios' first release on a Nintendo console. Their popular pinball titles have seen great success on the PlayStation 3, Xbox 360, iOS, and Android market places, but is the 3DS release on par with their previous games?
For the most part, the game is a port of their previous titles. However, what it lacks in originality, it makes up for in usability. The 3DS port is by far the most accessible handheld version of the series, as the 3D—a feature lacking in both the iOS and Android versions of the game—allows for a depth that largely makes up for the fact that the game is presented on such a small display. In fact, I would go so far to say that 3D is required to fully enjoy the game. Moreover, the tables include eight different camera options, allowing you to choose the one that works best for you.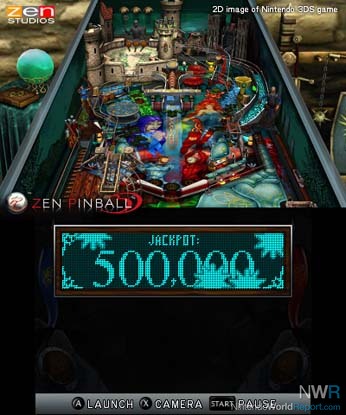 As for gameplay, Zen Pinball 3D offers a no-frills handheld pinball experience that spans four unique tables. Unlike other pinball video games that deviate from the original formula and include features that could only be done in video game form, such as Devil's Crush or Pokémon Pinball, Zen Pinball 3D tries to replicate the gameplay and physics of a real pinball table, with which it does a remarkable job. Consequently, all four of the game's tables could theoretically be reproduced as physical pinball tables. The only real exceptions are some of the tables with more active models, such as the large robot that fire balls in the Earth Defense table; however, with a little ingenuity these instances would not be far beyond what is possible in a real table.
As mentioned above, each of the four tables offer its own unique experience. However, Excalibur, the medieval-themed table, is by far the most feature-rich table available. Excalibur includes many different missions to complete, from a quest for the Holy Grail, to completing a jousting competition. Some of the missions are nothing more than getting the ball to certain locations on the table, but others, such as the jousting competition, function more like a mini-game. And as an added bonus, each table includes four awards that act as achievements for completing different missions. The other three tables (Eldorado, Shaman, and Earth Defense) also include missions and rewards; however, none as elaborate as the ones present in the Excalibur table.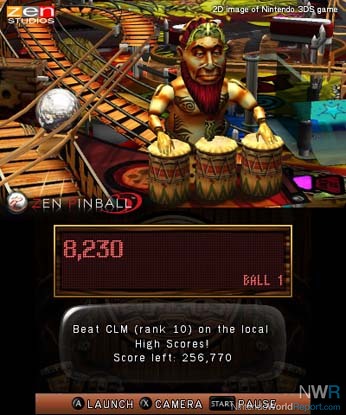 Additionally, each table in Zen Pinball 3D has its own online leaderboard that allows players from around the world to compete for high scores, as well as a hotseat multiplayer mode that allows up to four players to compete for high scores using the same 3DS. The leaderboards rank both your individual table scores, as well as your pro score— the culmination of your high scores on all four tables. For each ranking, there are three different leaderboards: overall, friends, and my country. The different rankings allow you to easily check where you rank in the world, among friends, and in your own country. The leaderboards add quite a bit of replay value to the game, as positions change daily, giving the incentive to constantly work towards a higher score. In fact, the leaderboards are so well done in this game, I would be disappointed with any arcade-style game released in the future without one. As for the hotseat multiplayer, it offers a nice way to compete against friends who may not have the game or a 3DS.
Zen Pinball 3D is a polished experience that will please pinball and video game fans alike. Despite its conservative take on pinball, as compared to games like Devil's Crush, it still offers an enjoyable experience that is worth any 3DS owner's time.