You might be puzzled to death, not in a good way.
I Heart Geeks begins with a great concept: use various items to set off a sequence of events in order to fulfill a set task. The game seems fun at first but fails to do one thing: become different. After finishing all the missions, I felt as if I hadn't done anything other than popped over a dozen balloons and started an uncountable number of steam engines. I Heart Geeks has its glowing characteristics, but there are some issues that hinder its overall appeal.
Players take on the role of a geek, who is assisting fellow geeks (Milton, Theodore, Gilbert, and Eugene) in teaching the bullies of their school a lesson. The game delves into the puzzles quickly, and doesn't force you through blocks of dialogue. I greatly appreciated how the lack of an in-depth story allowed me to easily switch between one puzzle and the next.
Each puzzle presents a simple task, such as popping a balloon or putting a ball in a basket. These mundane responsibilities, tasked to you by the geeks, repeat far more than anyone would like them to. Popping identical looking balloons in different ways gets old around the fifth time you do it, and believe me when I say that the fufth time is nowhere near the end of the game. Aside from the main puzzles, there are boss battles that, unlike the rest of the game, have a time limit. These are a nice break from the other missions, and feel more interactive. It's too bad there were not more of them included.
What I Heart Geeks does do, in order to try and make up for the repetitious nature of the jobs, is give you a whole laboratory's worth of items to work with. Solar panels, steam engines, lasers, and more are all present and at your disposal at various times. Each task only gives you certain tools to work with, but in some cases they aren't all needed. This great item variety does turn the aforementioned repetitive tasks into less of a chore, but the items come with their own set of problems.
Items are selected using the stylus, then, after switching the screens, placed using the stylus again. Items are selected five at a time, and then placed in the same order they were selected. This causes problems when you select an item like a chain and it has nowhere to go yet. When this happens, you have to go back to the other screen to reselect the item again. This flipping back and forth between screens becomes cumbersome when all you are trying to do is place the items to work with them.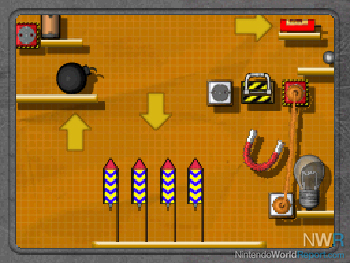 When placing the items on the screen, you can put them any place with open space. This permits you to solve different puzzles in different fashions. Occasionally, I found that my placement of items was better than the game's suggestion (delivered via the hint system). Although having complete control of where items were placed was great, it created some issues. Using items, such as magnets, required almost complete precision in order to get a required outcome.
The animation style and artwork were both fine; but in a puzzle game they were not my main focus. I could tell what each component in my contraption was, while the geeks assisting me each had a unique feel. By no means were the graphics terrible, but the game's presentation never gave me that "wow" moment like other handheld titles sometimes do.
I Heart Geeks is a puzzle game that provides short-lived fun. My initial reaction to the play style was favorable, but my high opinion of the game slowly dwindled as its problems began to take shape. Repetitious and boring tasks, coupled with item placement problems, ultimately hold the game back from being a superb puzzler. If you want to quench your scientific side with some physics-based puzzles, this could for you. However, if you are looking for a problem-free puzzle game, I Heart Geeks does not fit that bill.