Shin'en's 3DS debut is quite possibly the best-looking 3DS game not made by Nintendo.
Shin'en has developed a reputation for making solid Nintendo games across the retail and download space. With the Nanostray series, they made a pair of superb 2D scrolling shooters for the DS. Nano Assault is the spiritual successor to that series, but it moves the gameplay into 3D, with a mix of Star Fox-esque segments and explorable 3D instances.
The best sections of the game are the latter, which involve you maneuvering around a Super Mario Galaxy-style planetoid, collecting items and shooting down enemies. These are fun, usually intense segments that require you to deftly move around while destroying enemies near each of the cell's infected regions. The only major hiccups that soil these sections are the controls, which would benefit greatly from a twin-stick Circle Pad Pro-esque setup; you use the Circle Pad to move the ship and the face buttons to fire. It's not game-breaking, but it can be frustrating at times, especially because the 3D environments have depths and valleys that put you at odd angles.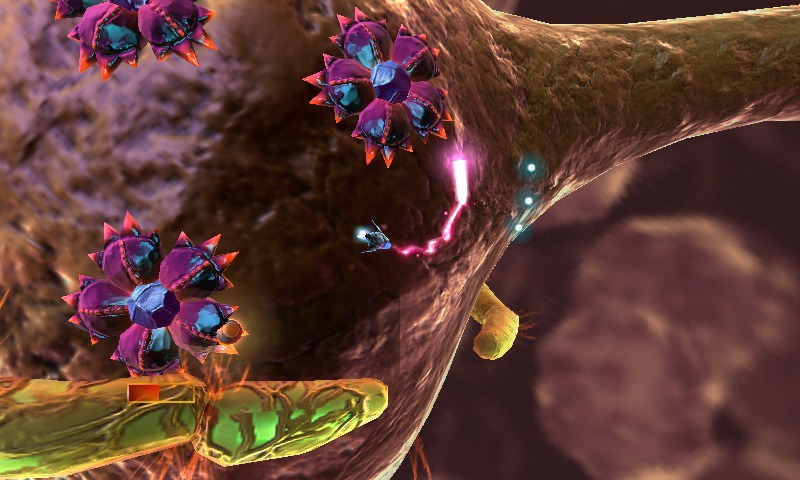 The Star Fox segments are visually stunning in 3D, rivaling the beauty of Nintendo's own Star Fox 64 remake. However, the fact that you can't do any kind of barrel roll/dodge maneuver means you'll spend most of the levels flying around and avoiding fire. It also doesn't help when there isn't much reward for engaging the enemies that come at you. If you let them go by, they just disappear.
The bosses are a major highlight of the game, as they are large, somewhat challenging, and generally long, multi-stage affairs. Also, like most other sections of the game, they look awesome in 3D, especially an early boss that attacks you and "bursts" through the screen. The game's story takes a back seat, but you explore what appears a cellular structure in a minuscule ship as you try to defeat the deadly Nanostray virus.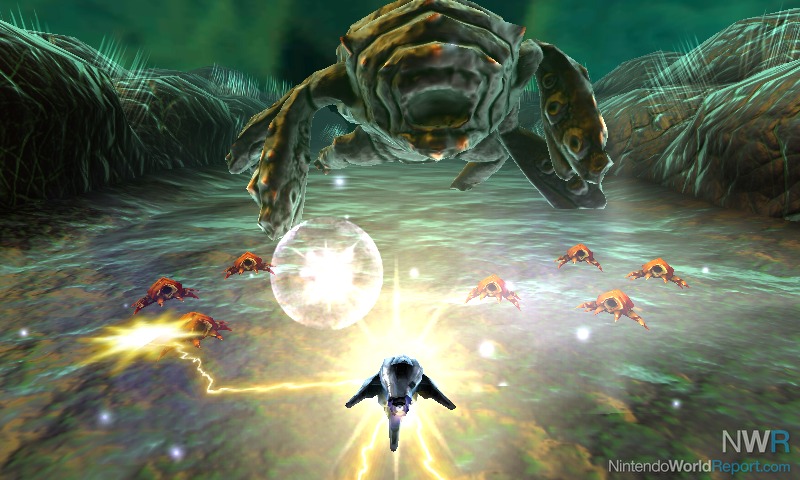 In addition to the 32 levels, you can work your way through Arcade mode, which gives you alternate challenges to clear, high scores to set, and online leaderboards to strive to top, and a Boss Rush mode that pits you against each boss back-to-back. The rest of the unlockables are generally throwaway stuff, such as music, enemy details, and more. Some of this can also be unlocked with the 3DS' Play Coins.
Nano Assault has enough issues, whether it's the roughness of the on-rails sections or the face button directional shooting, that it might turn off some players, but if you want some fast-paced and focused shooter action that looks damn fine and can get addictive, Shin'en's latest is well worth your time.