Slapping people has never been funnier.
The Wii has had some incredible drawing-style 2D platformers in the past, including Wario Land: The Shake Dimension, Muramasa: The Demon Blade, and A Boy and his Blob, to name a few. Rayman Origins, the latest in this line, is no exception.
Origins was first intended as a prequel to the entire franchise, which would explain the beginnings of the story and the birth of Rayman himself. This idea was scrapped in development, though, and the game became a sequel to Rayman 3. The Origins title likely remains intact due to the series' proper return to form—another side-scrolling platformer game, without any of those obnoxious Rabbids that were starting to outstay their welcome.
The story takes place after Rayman 3, and reintroduces many of the characters from the series thus far. As Rayman, Globox and friends relax in the branches of the Snoring Tree, their surprisingly loud slumber is heard all the way down in the Land of the Livid Dead, where the underworld citizens are enraged and launch a large-scale attack on the world above. Rayman must seek out and free the captured Electoons so they can help him repair broken paths in each world, allowing access to the next. Along the way, he can collect the countless Lums that appear, which in turn reward him with more Electoons.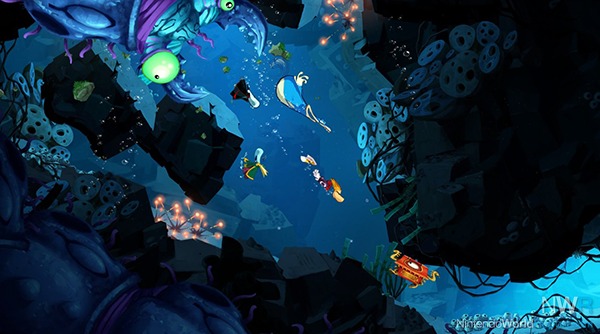 As with older games in the series, you run and jump across the lands, with various new abilities gradually added to your control, such as the ability to use Rayman's hair like helicopter blades to float and scurrying up curved walls. There are three control options to choose from—the Wii Remote on its own, the Wii Remote and Nunchuck combo, or the Classic controller, which generally fits the style of the game best.
You'll find the standard fare of platforming traditions throughout the game—forests with vines to swing on and lush greenery, cliffs that crumble and collapse as you traverse over them, underwater caverns teeming with aquatic enemies, and even auto-scrolling flying levels featuring Rayman's old buddy Bzzit the mosquito. It's the layout and design of the levels though that makes them unique, with plenty of bizarre quirks and situations to keep things difficult and fresh.
At any point throughout the game, a second, third or fourth player can jump into the action, and this is where things really start to get crazy. When multiplayer kicks in, you can work together with your friends to explore and find hidden areas, collect more Lums through your combined efforts, and help each other out—or simply slap the snot out of each other in a comical free-for-all. It's hilarious and insane and counter-productive, but it's FUN.
Like in New Super Mario Bros., additional players who die will become bubbles that can then float around through obstacles. Players can revive their fallen friends with a quick slap. This often makes a large difference between life and death during difficult situations, though if all players are turned into bubbles simultaneously it's an instant loss. Fortunately, regardless of how many players there are, there are no lives and no punishments for getting killed—you simply restart at the beginning of the last room you entered and can try over and over until you get it right.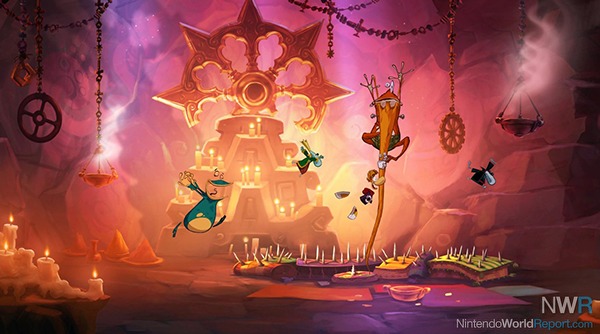 There is quite a lot to accomplish in the game as well. Without giving away too many spoilers, after the first five worlds are completed, an additional four worlds are unlocked, with a boss to defeat at the end of each, which in turn unlocks the final areas of the game. There is also an optional final boss that can only be faced after collecting ten ruby skull teeth from a challenging chase level in each world.
You can choose to play as any of four different characters, each with their own eccentric animation style, though they all control identically and have the exact same move set. There's also a large collection of costumes for each character that unlocks as you play.
The artwork is gorgeous, with gigantic sprawling worlds presented in a glorious, colorful painting style. The characters and enemies are drawn with a crayon-like outline, and have been redesigned from previous games in the series while still retaining their familiarity. The animation is quirky and fast-paced, looking a little like a flash cartoon—it has a feel very reminiscent of World of Goo, yet more on the hyperactive side.
The game can be nightmarishly difficult and some of the later levels can become very frustrating very quickly, with diabolical enemy placement or unforgiving bottlenecked structures that must be navigated with surgical precision. The abundance of checkpoints does help, but replaying the same room over and over because of one cheap segment can take its toll.
The style may also be adorable to some and annoying to others, as there's no shortage of singing chipmunk voices or distracting Pig Latin narration to accompany text boxes.
Still, this is a solid title that must be experienced. If you don't mind a few disembodied handfuls of rage-inducing difficulty or the constant, sanity-warping slapstick, you'll have a blast, especially if you invite some friends to slap around.