The definitive Wii board game experience.
The Itadaki Street series has been popular since the early '90s, with iterations on the Famicom, Super Famicom, PS2, PSP, and DS. However, not one of the titles has left Japan in the past 20 years. Now the series is finally making its debut in the west with the release of Fortune Street for the Wii.
For those unfamiliar with the series, Fortune Street is similar to the board game Monopoly. The main objective of the game is to be the first player to raise his net worth to the target amount and make it back to the bank. In order to raise money, you will have to buy and expand shops. Much like properties in Monopoly, if another player lands on your shop they will be forced to pay you a certain amount of money based on your shop's prices. However, what sets Fortune Street apart from Monopoly is its inclusion of a stock market.
Fortune Street's use of the stock market allows you to expand your profits from your shops to entire districts. Each district is made up of a series of shops and is marked by a certain color. You can buy stocks for each district present on the board. Some game boards are larger than others, and thus have more districts to choose from. The best way to choose which district to invest in is to look at each shop's remaining max capital. The max capital is the amount of money you can invest in a shop to expand it. When a shop is expanded, both the prices of the shop and the district's stock rise. Buying additional shops in districts where you already own one can also expand shops. Stocks are unique, in that you do not have to own shops in a district to profit from them. If you buy stocks in a district owned entirely by others player, you will profit each time they expand their shops. However, despite their importance, Fortune Street gives players the option to disable stocks, as they are only present when playing by the game's standard rules. Stocks and districts are absent in the easy rules.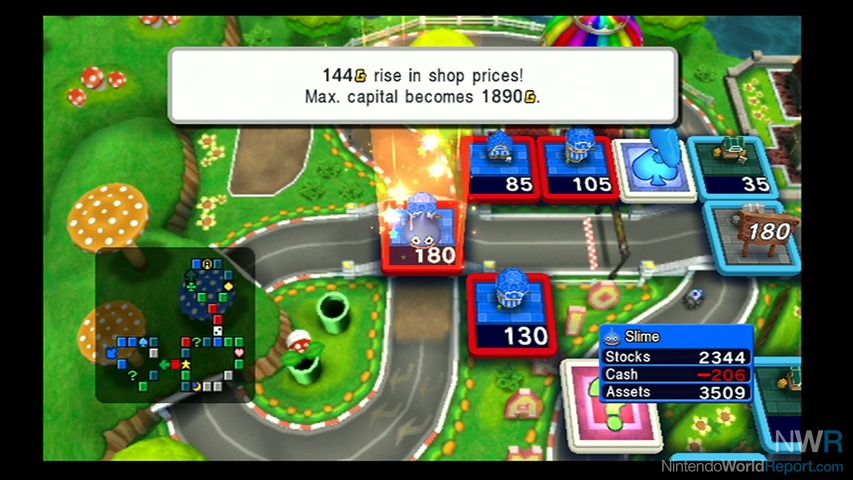 In addition to shops and districts, the boards in Fortune Street are littered with special squares, such as the arcade, suits, and venture cards. When a player lands on an arcade square, they get to play one of four mini-games to win money, shop expansions, or suit cards. However, the mini-games are slightly disappointing, as they are entirely luck-based and require very little input. In the end, it did not make that big of a difference, but it would have been nice to have some input other than chance.
The suits and venture cards are a bit less exciting, but they play a larger role than the arcade squares, in both their usefulness and number. The suits act as markers to show that you have made a trip around the entire board. When you return to the bank with a set of four suits—spades, hearts, diamonds, and clubs— you will be rewarded with your salary and promoted a level. In this way, the suits and the bank act in a way similar to passing 'Go' in Monopoly; however, since the boards in Fortune Street are dynamic and allow you to change direction at junctions, the suits are required to show that you have made an entire trip around the board. The venture cards are similar to the arcade squares, since when you land on one you are given a large grid with many cards to choose from. The bonus you receive from them is entirely based on chance and may benefit the other players.
Fortune Street offers both single-player Tours and free play, as well as four-player local and online multiplayer. Single-player can get especially tiring, given the lack of social interaction. This is particularly bothersome in the Tours, where even the smaller boards last for more than two hours on average. Losing on one of the Tour boards often means you will have to replay the entire board. There are three Tours: one with a Super Mario theme, one with a Dragon Quest theme, and an unlockable variation that is only available after the first two are completed. Each Tour has 6 themed boards to play that include different characters from their respective series as the other players. Winning Tours gives you stamps, which you can spend on the many accessories for your Mii. The biggest downside of Tour mode is that you cannot play it with other people. It would have also been nice if they included some way to fast forward through NPCs' actions, but they only include the option to accelerate players' movements and text speed.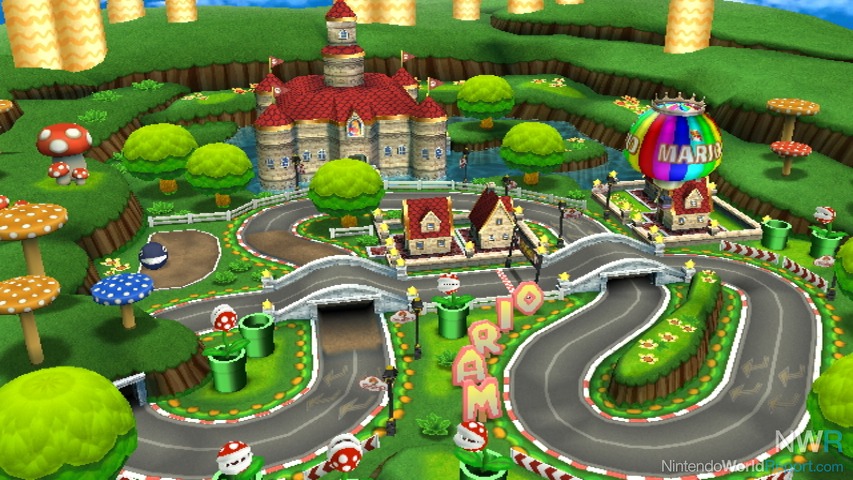 Multiplayer is much better, thanks to the ability to interact with friends. However, all your progress in multiplayer is lost once you finish the game. Online is a bit better in this respect, though, as the game keeps a record of your online achievements, but it lacks the social interaction local multiplayer provides.
Fortune Street is a deep board game experience that is great if you have people to play with, but it can overstay its welcome in single-player. If you have friends that love Monopoly, or if you want a deep and lasting experience for the Wii, Fortune Street is one of the best of its genre on the system.