It's a mystery wrapped in an enigma wrapped in a puzzle box.
Holy puzzling puzzlers, Ubisoft! It's truly the caper of the decade in James Noir's Hollywood Crimes for the 3DS. With more twists than you can shake a stick at, this game brings puzzles to a whole new level.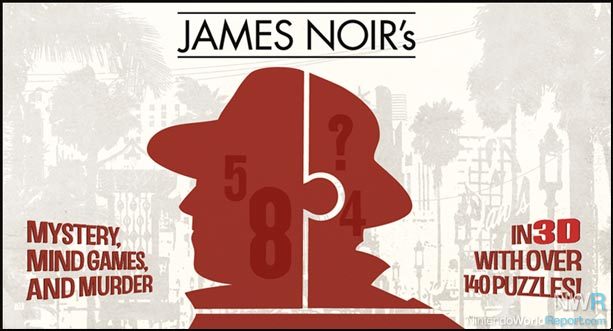 The game takes place in 1960s Hollywood and focuses on a popular TV show about incredible puzzle masters. On the show, contestants must complete a set amount of puzzles to proceed to the new rounds. After becoming a contestant, your former-roommate-turned-FBI-agent brings a few cases to your attention. They have been murders of the former winners of the show. What he doesn't tell you is that he suspects you of said crimes, but you're not the only one. It is on the show that the suspects are gathered. The suspects are comprised of the show's host, whose popularity is waning; the ice-cold producer; the beautiful co-host who's had enough; your ever-present opponent; and the most suspicious character—yourself. That may sound a little cheesy, but the game does a good job of making you suspect everyone, including yourself.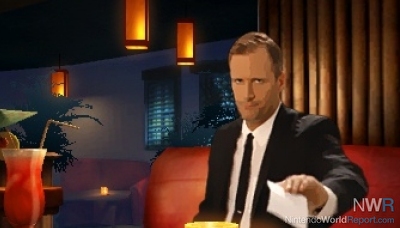 Look at how serious he is. He was obviously the nerdy roommate.

Through its puzzles and story, the game can become fairly addicting. The story has a very brisk pace, letting you find clues hidden in the murders and then sending you back to the game show. You have enough interactions with each of the characters to warrant suspicion and the further you progress into the story, the more suspicion arises. The puzzles vary from simple to extremely difficult, but most of the time the player can choose which puzzles to take on and to pass on. Granted, some puzzles can wear you out and some are a little repetitive, but it never gets too bad.
The game's visuals are both delightful and strange. The game wonderfully captures the feeling of the '60s as well as any form of media can. Outside of the puzzles, the 3D is used well and the sets and backgrounds are a treat to look at. Unfortunately, the only characters you interact with look a bit...odd. The characters are actual people, but when they talk, the game uses the same eight seconds the actors were filmed for over and over again. The voices used for the characters are great and really bring them to life, but they just look so weird in action.
Overall, the game is good, though not great. The puzzles are interesting and the story is intriguing. The visuals are solid and the audio's OK. If you're into fun puzzle games with gripping mysteries, James Noir might be one to look into getting.