The seminal side-scroller finally sees a retail release.
Can you believe it's been seven years since Cave Story appeared as a freeware game on PCs? In all that time, and on all the platforms it's been ported to (including the excellent WiiWare version), it's never been on store shelves. Well, friends, that day has come. NIS America picked up the game and 3D-ified it. Is it worth the effort? Well, yes and no.
The game does look beautiful in its polygonal, fully realized glory. While I still adamantly believe that the non-patched WiiWare game is the best version, Cave Story 3D ain't no slouch—I imagine this is what the game looked like in Pixel's head while he was slaving over the original freeware game (which, it must be stressed, he made himself). Familiar environments are rendered dark and moody by the new graphical style, and that extra dimension really does add a lot of immersion. This is helped mostly by the fact that environments stretch back to front as well as side to side. There's plenty to look at behind Quote and in front of him. Our boy may be moving on a straight path, but the world of Cave Story 3D exists all around him.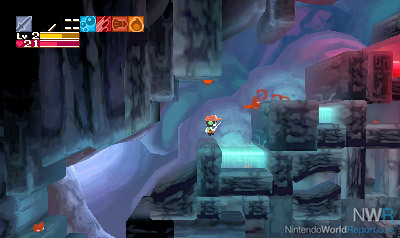 There are times, however, where the new aesthetics prove unhelpful. While it's always been understood that Cave Story takes place in a subterranean world, and light should not be all that plentiful, this 3D remake just drives the point home with a dark color palette and a real lack of ambient lighting. There were many times where I had to rely on the room map, handily displayed on the bottom screen, to accurately judge where I could and could not go. The darkness is a big problem in the Ruined Egg Corridor, where spikes—rendered nearly invisible due to their black or grey color—will kill Quote without warning.
Certain enemies and bosses are tougher to see and deal with in polygonal 3D, too. The Core boss looks like a translucent ghost in 3D, making the fight much harder because you can't really see what you're shooting. Happily, the game does offer the option (at the file select screen) of "Classic Mode," where the 3D environments remain, but the characters, enemies, and items are replaced by their 2D sprites from the WiiWare version. There were many times during my trek where I actually preferred this mode.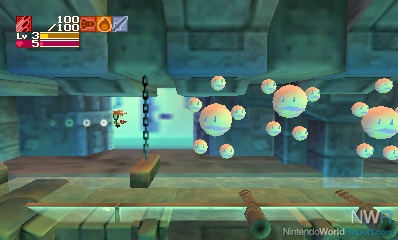 Once you make all the "right" choices in the game and have the option to enter Hell (I don't recommend it), you'll unlock a time trial of that punishing area. So good luck with that. Cave Story 3D also boasts a few new areas, including one near the Plantation where you can find a funny but useless Prinny hat. It doesn't do anything; it's just a baseball cap that looks like a Prinny head. Finally, the developers have hidden plenty more heart containers around the world, and Quote can get up to 100 health now. I recommend scouring the place if you're going to try and take on Hell and the final FINAL boss.
As for the soundtrack, I love the music in the original Cave Story and I like the non-patched WiiWare music even more. They got Danny Baranowsky, of Super Meat Boy fame, to rescore this game, and while his tunes are awesome, they don't really gel with the simplistic, original score. Sure, the tracks are recognizable and upbeat, but in making them super-detailed, I feel like some of the soul has been lost. If I hadn't heard the original score, I probably wouldn't have this complaint, but I have.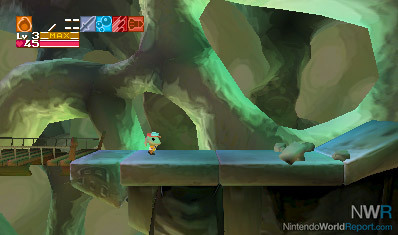 I was disappointed at the loss of Curly Brace mode and the Boss Rush, and I still consider the WiiWare version to be the best version of Cave Story because of the content, graphical style, music, and price point. Your handheld options are more limited—it's either this or the DSiWare version, which itself is just the freeware game with a Hell time trial, and none of the WiiWare upgrades. Cave Story 3D may seem like a tough sell, but when you consider how many people do not connect their systems to the internet, it's really not. Cave Story is game that every gamer needs to play, and if Cave Story 3D is the most viable method of doing that, so be it. However you get your hands on this game, just do it. It's that good.