It's your choice, if you even care.
Will you join the X-Men or The Brotherhood? Will you bring peace or terror? Will you even get that far in the game before not caring? All of the answers and more in this next episode of "Nintendo World Report Reviews. . ."
X-Men Destiny is the new adventure game from Marvel and Activision. In it, you play the assistant of a mutant rights activist whose powers are awakened during an attack on a rally you are holding. From the get go there are choices to be made. Will you be a close range or long range fighter? What kind of charge attack will you have? As you travel around the city you can meet up with mutants and heroes from both sides of the war and take on missions to collect suits and power ups. As the game progresses, so do your powers. And with each mission you take on, you have another choice to make about your alliances and powers.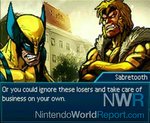 The game tries to please most fans of X-Men by simply placing various famous team members around the maps. They don't really do much with the various characters aside from letting you take missions from them. These missions don't really impact the game aside from giving you pieces of costumes that you can don later in the game.

The action in the game is fairly smooth. The gameplay is solid, but nothing noteworthy. The fighting and searching around maps can quickly become repetitive and the same goes for the fighting. It takes a little while for you to acquire some fun powers, but once you do, the game starts to pick up a little. It's still pretty much a game of saving lives or destroying enemies, with little variation between the two.
This DS game is pretty good, but doesn't really hit as hard as it could have. With average graphics and music accompanied with the average gameplay, nothing about the game really stands out... except for Wolverine. He's a cool guy.