Bells, bells, and more bells!
TwinBee, Nintendo's most recent 3D Classics release, is a vertical shooter that draws much of its inspiration from Namco's Xevious. The game hails from the arcades of 1985, however this game is based on the Famicom release from 1986. Unlike the previous 3D Classics, TwinBee was not released outside of Japan until 2007, when it was included as part of a Konami Classics compilation for the Nintendo DS.
In TwinBee, you take control of a ship that can both shoot straight ahead and drop bombs downwards on enemies that litter the ground. Yet, what sets TwinBee apart is its use of bells as a pickup. Bells are invaluable items that appear from clouds and not only power up your ship, but also act as point multipliers. When shot the bells remain in the air, allowing you to take out enemies that would otherwise be in your way.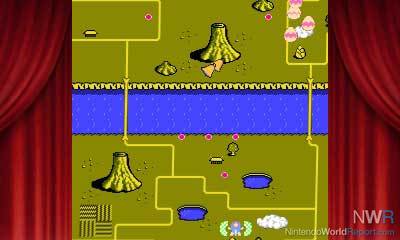 Juggling bells while also making sure to dodge incoming fire can get intense in later levels, but it's important that you do not miss any for a good score. Thankfully, power-ups such as the shield and the spread fire of the super candy make it much easier. In later levels though, losing a life will likely mean game over no matter how many extra lives you've amassed, as your ship is almost useless without power-ups.
Unlike other early vertical shooters, TwinBee not only introduces new enemies with each level, but each ends in a unique boss. When the game's five levels are completed, it recycles them, but with increased difficulty. Five levels does not seem like a lot, but the game's difficulty will make up for the lack of variety. Plus, for a score attack game, the main purpose is not to spend your time looking at the scenery.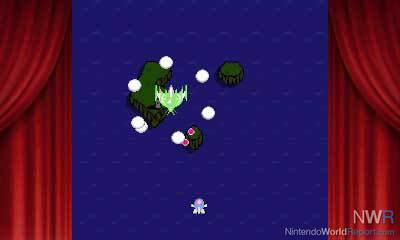 Of course the stereoscopic 3D is the most important addition to any 3D Classic title. Unlike 3D Classics Xevious, which gives the impression of looking straight down from the sky, TwinBee's 3D effect appears as if the viewing angle is set to a diagonal position, which works well with the game's cartoony visuals. The game lacks the full screen visuals of the other 3D Classic titles, instead opting to use a red curtain border.
3D Classics TwinBee is perhaps the greatest offering in the series as of yet. The only blemish on the overall game completeness is its lack of an online leaderboard and the removal of the Famicom's multiplayer mode.