Finally, a game that tells us upfront what to expect.
Gameloft, known for their many mobile games that closely resemble existing popular titles, has come to 3DS with the first original downloadable title on the platform in Let's Golf 3D. The game, originally released as Let's Golf 2 on mobile platforms, is a close interpretation of the popular Hot Shots golf series. The game features six golf courses with 18 holes each, and eight unlockable characters.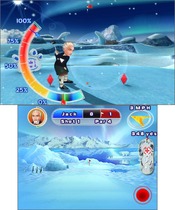 The game looks and plays much like many golf games that have come before, including the Mario Golf games on the N64 and GameCube. The three-click-swing (once to start, once for power, once for accuracy) is a tried and familiar way to swing a golf club in a video game, and works exactly as expected in Let's Golf 3D. In fact, it's actually a little easier here in than in past three-click-swing games such as Mario Golf because of the speed of the swing meter. I was able to get a perfect swing far more often than in most other golf games I've played.
The game contains a fairly deep career mode, with six different courses, and multiple different challenges on each such as match play, stroke play (front nine, back nine, full 18), shootout, closest to the pin, and others. Each successful challenge awards you medals, which are used to unlock new outfits, characters, courses, and challenges. Thankfully, there's plenty of content to play through, and getting through the career mode will take quite a while. Although it's nice to be able to level up your character, once you have started doing so, you will be less likely to choose one of the other characters you have just unlocked as they are back at level one. Another problem with the game is that there's no online mode to speak of, though the title does support pass-and-play multiplayer.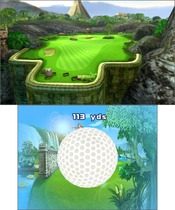 Unfortunately, the game falls short in a few areas. First, the load times in the menu screens are bad. It takes way too long to customize your character and pick a mode simply because the menu simply feels sluggish. The character models feel sluggish as well; watching your golfer tee off feels like someone hit a frame skip button. In a lot of ways, the game simply doesn't feel particularly optimized for the power of the 3DS. The music is forgettable, but not annoying, and the other sound effects don't really add to the game experience. The courses are designed with a bit of flair, and the physics feel more or less okay (though very forgiving) but in a lot of ways the game definitely feels like what it is: a downloadable title.
The game is not very difficult. Most medals won't require too much time, as the other computer-controlled golfers in the game don't seem to be too much of a threat. At one point, I was worried when I got an abysmal six over par score late in a match, but when I saw the scoreboard; I realized I was still in first place over the nine-hole match. The Close-To-The-Pin medals have a little less room for error, so they are a little more challenging, but overall this is not a difficult game to progress through.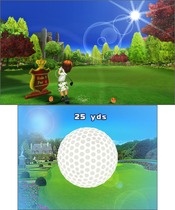 Let's Golf 3D largely accomplishes what it sets out to do: deliver a good golf game with a variety of locations and 3D visuals. For gamers who are looking for a fun golf title to have permanently installed on their 3DS for pick-up-and-play action, Let's Golf 3D is an acceptable option. It doesn't have very much personality, but will satisfy the urge to hit the links on the 3DS .