Not even the Autobots could save this game.
Now it's known that not all movie-based video games can be winners, but there are a few that have stood out through the years. There have been some that have proven that just because they are associated with something bigger, that doesn't stop them from being something amazing on their own. Then there are the games that aren't quite as good as their movie counterparts, with flaws in plenty, which just can't hold up on their own. Transformers: Dark of the Moon is in the latter category.
In the new Transformers game for Nintendo DS, players can choose between either Autobots or Decepticons (depending on the version of the game they purchase). With the Autobots, players help save the Earth; with the Decepticons, they conquer it. This review is focusing on the Decepticon version, but most of the comments apply to both.
In the game, each Transformer receives orders from their superiors. After their objective has been explained to them they head out into the city. In the city each Transformer will come across members of the opposite faction and do battle. After each battle the giant 'bots can transform and roam around the area looking for their current objective.
After the Decepticons have received their orders, they are free to roam about the city, causing as much chaos as they please. From destruction to hacking satellites and turrets to assassinations, there are a variety of things for the evil 'bots to do. Each mission requires a different skill and the constant change-up can be a lot of fun.
The biggest problem with the missions is actually carrying them out. The basic controls feel sticky, for starters. Basic movements, like turning, are a hassle. Unless you like standing still and shooting enemies, the game makes it hard to do anything fun; even driving around feels forced.
The graphics are lackluster. It's understandable that the aesthetics of the feature film would be hard to recreate on the handheld, but it is a mediocre effort. Some of the character designs are confusing, with specific regards to their anatomy. One of the redeeming qualities of the visuals, though, is the transformations from robot to car. The animation is seamless as your favorite Transformer races down the street. However, as soon as you have to start fighting Autobots again, the graphical fidelity loses its luster.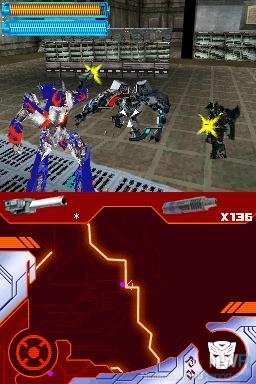 The best part of the game is the voice acting. Granted, they aren't the same voices as from the movie, but they're just as fun. Transformers fans will be pleased with how the personalities and voices of the characters in the game have been preserved.
In short, the game is mediocre at best. There are a few positive aspects, like the voice acting and the missions. Unfortunately there are more things in the game (like anything else) that will drive you insane.