Small flaws take away from what could have been a standout launch title.
Pro Evolution Soccer 2011 3D features solid gameplay and offers a lot of depth in its Master League mode. Unfortunately, an overall lack of polish holds back what could have been a truly great game.
Unlike most soccer games, which default to showing the action from a television-style, zoomed out overhead perspective, PES 2011 3D takes you in close, with a third-person view more reminiscent of Zelda than of a traditional soccer game. Many recent sports titles include this view as a secondary option, but this game was designed around it. This was clearly done because this perspective allows for better use of the system's 3D capabilities, but even playing with the 3D turned off I felt like it added to the game. The game also includes the traditional camera options, but the action feels faster and more intense from this view, and I like it so much that I intend to go back and play other sports games I own with this camera because of it.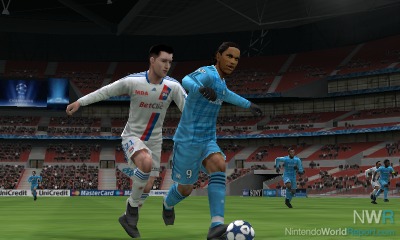 If you jump into this game without reading the instructions, you'll get the impression that it's very simple mechanically, and it can be played that way on the lower difficulty settings. A look at the manual, however, shows that there are dozens of different button combinations allowing for precise, technical play. The game makes excellent use of the 3DS Circle Pad, without which the kind of precision the game permits, and on higher difficulties requires, just wouldn't be possible.
With such strong presentation and mechanics, it's a shame that they couldn't get a few of the details right. The game has an instant replay system that does an even better job of showing off the 3D than normal gameplay, but they pop up far too often. Replays can be skipped by pressing the Start button, but there is no way to set how frequently they occur or turn them off completely, and some events trigger multiple replays in a row, which have to be skipped individually.
The biggest gameplay issue, though, was the game's uneven difficulty. It wasn't a problem until I needed to switch from one difficulty level to another. On the initial setting I would consistently dominate CPU opponents, almost always by three or more goals, but when I switched to the next-highest setting it flipped, and now I was the one being dominated and I almost never scored.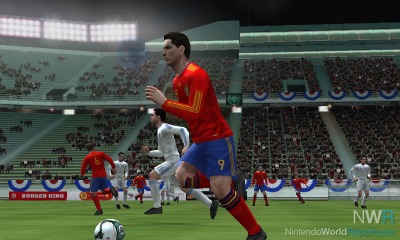 In addition to the standard Exhibition mode, PES 2011 3D includes the ability to play through the UEFA Champions League tournament as well as the Master League, Konami's take on a franchise mode. Master League lets you take any of the included club teams and control them over the long term, playing matches and managing the team.
I was disappointed at the complete lack of America's Major League Soccer, the league I follow most closely, and disappointed even further that only some European clubs are licensed in the game. The clubs feature real player names, but only some real team names and logos are present, even within specific leagues. That means Manchester United is there, but if you, like me, are a Liverpool fan, you'll have to settle for playing as Merseyside Red, their generic representative.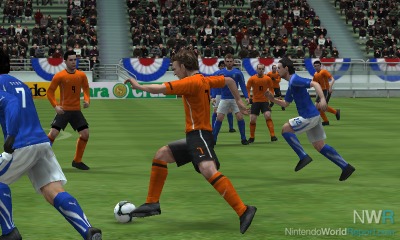 Master League offers a lot of depth, but the interface isn't friendly at all. There are icons in this mode that are never explained, another reason why reading the manual is essential to playing this game. The intricacies of this mode may be obvious to long time veterans of the series, but this is the first game on a new system, and as a launch game is likely to be purchased by a significant number of newcomers to the series, so Konami should have made more of an effort to appeal to those who are unfamiliar with those mechanics.
Pro Evolution Soccer 2011 3D is a good soccer game. If you're a fan of the sport, it's worth picking up, especially if you're familiar with the series. It just disappoints me that Konami didn't put enough effort in to fix the issues that keep the game from being great.