In this iteration of Worms, not much has changed.
Worms Battle Islands, the second Wii entry in the series, is a budget-priced game that first began life as a WiiWare title. The game's origins show from its poor presentation to its lack of ambition. It's still a good game, but it's basically just the same Worms game that's been around for more than a decade. To top it off, it's nowhere near close to the best Worms game on the market.
For the uninitiated, Worms is a 2D turn-based strategy title where you control a team of four worms and try to defeat other teams with comedic weaponry, such as the Buffalo of Lies, the Holy Hand Grenade, and the Super Sheep. It's a personal favorite multiplayer series of mine. In almost every entry in the series, there's a single-player campaign as well, which presents you with various challenges that are usually very clever.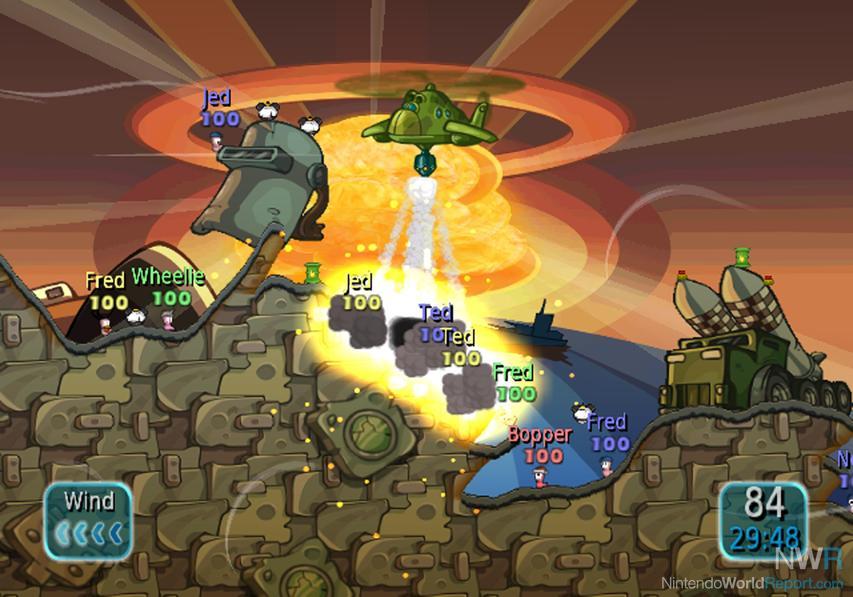 The hook of Battle Islands is Tactics Mode, which tries to reinvent the multiplayer Worms experience. When you turn on the game, you make a profile, a team of worms, and select an island base. As you progress through the game, you earn experience, which builds up your base. You gain different abilities for your team of worms that can be used in Tactics Mode. However, it doesn't amount to anything more than selecting an ability from a menu, such as "extra health," and watching its unimpressive effect on the battlefield.
There is also the regular old multiplayer, where you simply try to defeat other human and computer-controlled teams. The multiplayer works online as well, but I found exactly one game over the course of multiple play sessions. It ran fine, but it was a challenge to even find an opponent. However, if you've got friends with the game, you can exchange Friend Codes and alleviate that issue.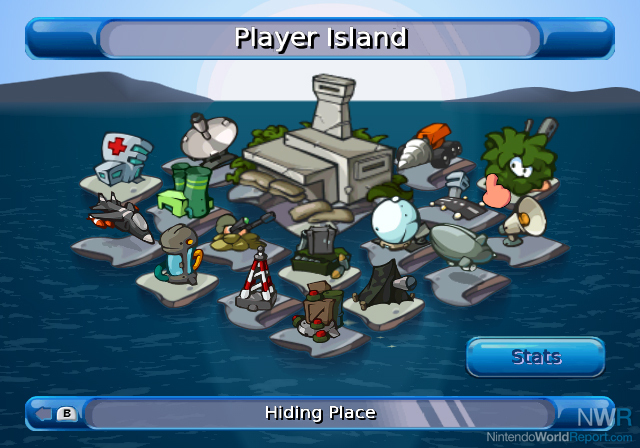 The single-player campaign and puzzle modes are fun, both offering up 30 different scenarios. The campaign is focused on standard Worms warfare, while the puzzle mode requires you to make precise shots with weapons or go through platforming obstacle courses.
The control methods vary between motion-sensing and normal. You can use the Wii Remote with or without motion, and you can also add the Nunchuk to the motion-based controls. The motion controls don't add much, just giving you different less-precise ways to fire off weapons, and most players will likely gravitate towards the familiar Wii Remote-on-its-side setup. Classic Controller support is sorely missed, as an analog stick's precision would be beneficial.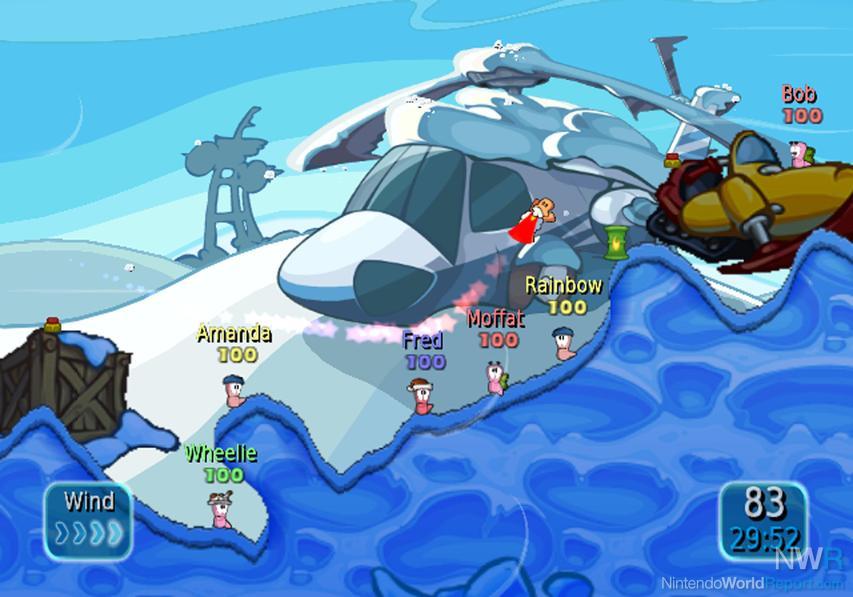 All the pieces are in place for a quality Worms game, but for some reason, the whole experience feels half-baked. The presentation and graphics are sloppy. There isn't anything functionally wrong with the soundtrack and sound effects, but it feels inferior to other Worms games and lacks a layer of polish. The typically comical Worm voices are even more repetitive and obnoxious than ever before.
If you've never played a Worms game before, only own a Wii, and want a low barrier for entry, then I highly recommend this game. However, if you've ever played a Worms game before, or own any other video game system released sometime in the past decade, find a Worms game for that system, as it is probably way better than this neutered Wii version.