Those expecting nougat or rodents from Jimmy C.'s latest stint on Radio Trivia will be greatly disappointed.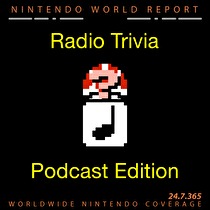 Subscribe via iTunes (Please rate and review, too!)
Games featured in this episode:
Link's Crossbow Training (Wii)
Metroid Prime Hunters (DS)
Paper Mario: The Thousand-Year Door (GC)
Magic of Scheherazade (NES)
NBA Jam: Tournament Edition (SNES)


(Highlight the text above with your cursor to view it.)
Did you like the third and fourth games? Let your fellow listeners know in TalkBack! Think you've got a better choice? Then send it my way and your request might be on the next episode of Radio Trivia: Podcast Edition! Heck, throw in a question and specific songs if you want. Just remember, it has to be a game found on a Nintendo system in North America (unless we say otherwise)!
This episode was edited by Michael "TYP" Cole. Intro music is copyright
Jason Ricci & New Blood
. All game music is copyright their respective owners