Zach brings his wacky paleontology vocabulary to Radio Trivia.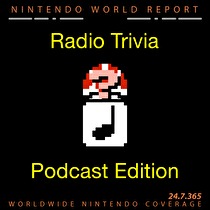 Subscribe via iTunes (Please rate and review, too!)
Use the

Subscribe through the
This episode's games list is:
Endless Ocean: Blue World (Wii)

Kirby Super Star (SNES)

A Boy and his Blob (Wii)

Ace Attorney Investigations: Miles Edgeworth (DS)

The Little Mermaid (NES)
(Highlight the text above with your cursor to view it.)
Did you like the third game? Let your fellow listeners know in TalkBack! Think you've got a better choice? Then send it my way and your request might be on the next episode of Radio Trivia: Podcast Edition! Heck, throw in a question and specific songs if you want. Just remember, it has to be a game found on a Nintendo system in North America (unless we say otherwise)!