Style Savvy offers over 12,000 clothing items for men and women, and also ways to share your fashion passion online, on the go, and when playing locally with friends.
Move over ladies, it's the men's turn to dress up. That's one major addition the upcoming 3DS game Style Savvy: Trendsetters has over its DS predecessor: some of its 12,000 clothing items are menswear, as are some of its 19 in-game clothing brands. The fashion franchise also adds bags and purses to its accessorizing options for the first time.
As a budding fashionista in the game, tasked with managing a full-scale, customizable fashion boutique, you'll likely need to make good use of all those shopping options. Style Savvy intends to go beyond fashion whimsy to fashion simulation, so you need to carefully and specifically tailor clothing choices to each customer. For example, those asking for an outfit with a bit of edge may require different choices than the woman looking for something more ladylike.
Beyond the customer's desire, you also have to draw clues based on their current outfit, and keep their budget in mind (looking good comes at a price!). You have to hope your store inventory contains the items necessary to put together their outfit, and hope your customer likes the outcome. Make the sale, and they may even ask for a follow-up purchase that'll help grow your business, giving you more funds to improve your boutique and stock up on the latest fashions. There's plenty to buy in the game, and Nintendo plans to release additional outfits online as DLC.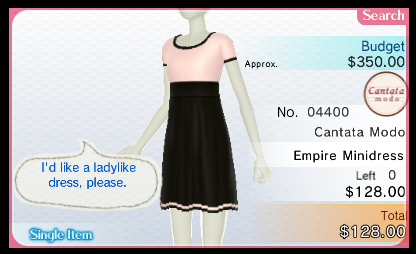 In fact, while providing makeovers for customers is a major part of the game, Style Savvy: Trendsetters includes a range of additional online and offline features to vary play. For instance, you can access an online Fashion Plaza and dress up to three mannequins to represent your online shop to other players across both North America and Europe. When not online but with friends, players can join forces and work together in a themed fashion show, with each player contributing his own style choices to win the event through cooperation. The offline StreetPass connectivity 3DS feature is also utilized: players can prepare a profile card, write down their fashion philosophy, and share that profile and their game character with other 3DS systems, possibly arriving as guest customers in other player's shops.
Style Savvy: Trendsetters also supports picture taking, both in the game world and in yours. You can take pictures of characters and your custom outfits in the game's photo studio, but you also have the option place the Question Block AR card that came with your 3DS in a real world setting to have the game project characters wearing their outfits onto the resulting 3DS camera images.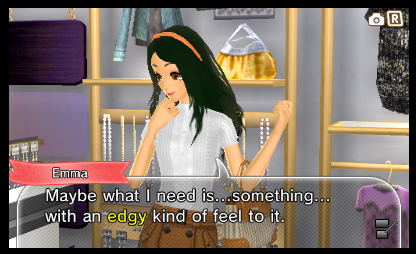 Style Savvy Trendsetters walks down the runway in North America October 22. In Europe, the game launches November 16 and is known as Nintendo Presents: New Style Boutique.