Skylanders' sequel adds more characters, more secrets, and Giants.
Skylanders Giants doesn't look different from the original game when you look at it. The graphics look about the same. The gameplay looks similar as well. But nestled in the game are a lot of key changes and additions that will make the series as a whole a more captivating world, providing the collectors and players with more to do.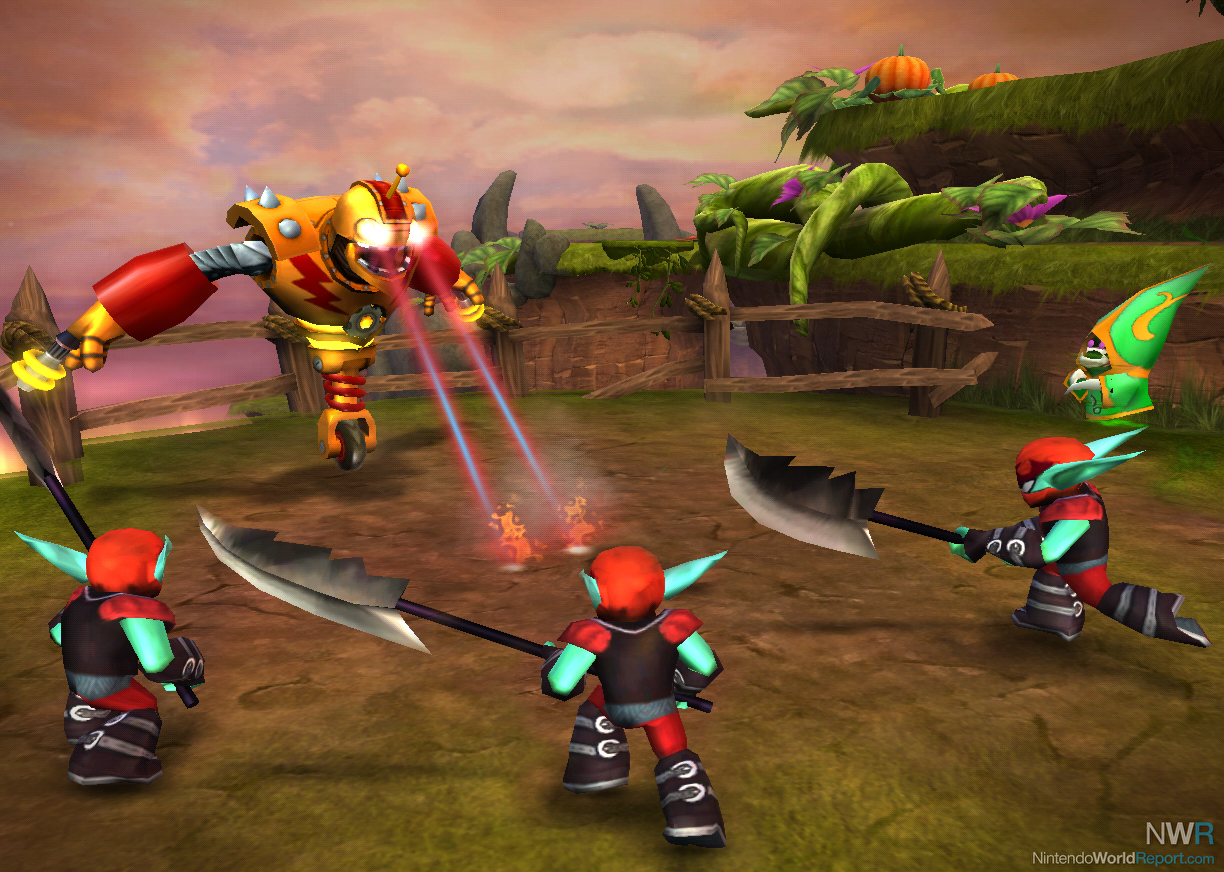 First off, let's run down the bullet-pointed list of what is new in Skylanders Giants for Wii.
Eight Giants (one from each element, retailing for $14.99 each)
Eight Light Core Skylanders (four new Skylanders, four reposed Skylanders from the original game, no batteries required, retailing for $11.99 each)
Eight New Skylanders (one from each element, retailing for $9.99 each)
24 Reposed Figures (from the first set, retailing for $9.99 each)
New Battle Mode (Ring Out)
Difficulty levels
All Skylanders (even old ones) can go up to level 15
All Skylanders work with Skylanders Giants
The biggest addition to the game is in the title: the Giants. These new characters, all of which are "Light Core" (meaning they light up on the Portal), are twice the size of regular Skylanders and generally have twice the fire power. They are a little slower though, and the developers emphasize that the smaller Skylanders still have value in battle. We know of three Giants right now: Tree Rex (Life), Bouncer (Tech), Crusher (Earth). Tree Rex and Bouncer were both playable at E3 2012, while Crusher was just on display.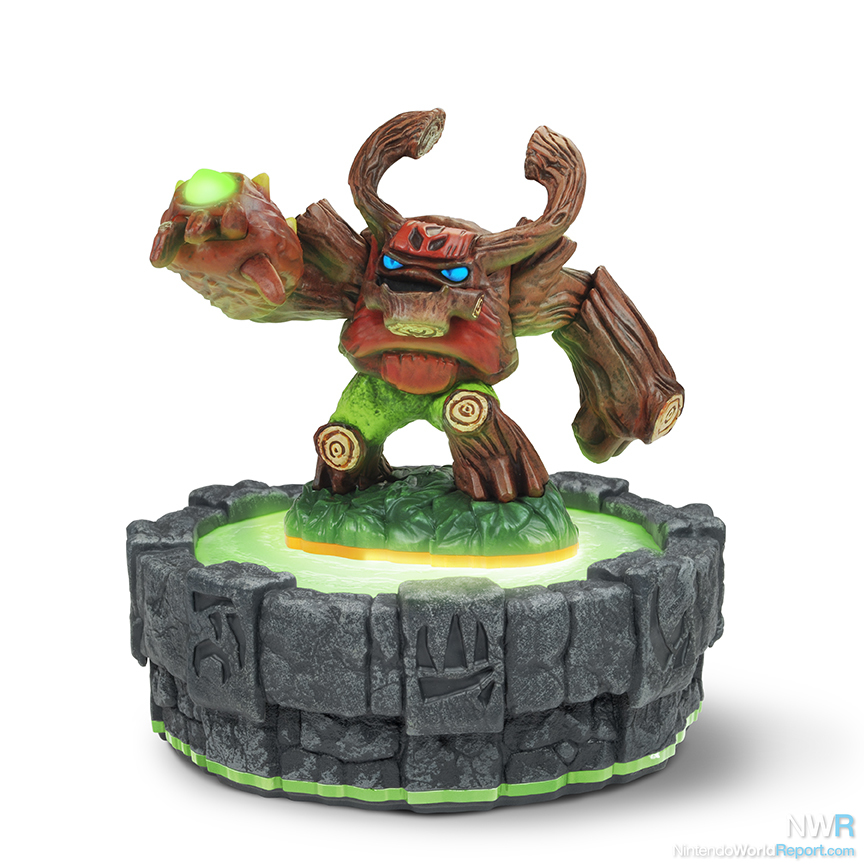 Tree Rex is a giant tree who became sentient and is mad at the in-game enemies. He's a brawler, and spouts the catchphrase "Be afraid of the bark." Bouncer sort of looks like the Iron Giant, and rolls around on a wheel shooting off finger guns. Crusher is an earthy robot with a giant hammer, so he's got that going for him.
Some of the new regular Skylanders are pretty interesting, and much like every single other Skylander from the original 32, is unique. Jet-Vac, an Air Skylanders, is a bird who wields a vacuum. He can use that vacuum to suck, blow out air, and fly around as he uses it like a jet pack. He also has the distinction of having the punniest catchphrase ("Hawk and Awe!").
Pop Fizz, formerly known as Alchemist, is a new Magic Skylander who has a variety of potions. He throws potions like landmines, and also can drink a potion that transforms him into a Mr. Hyde-esque creature for a limited time.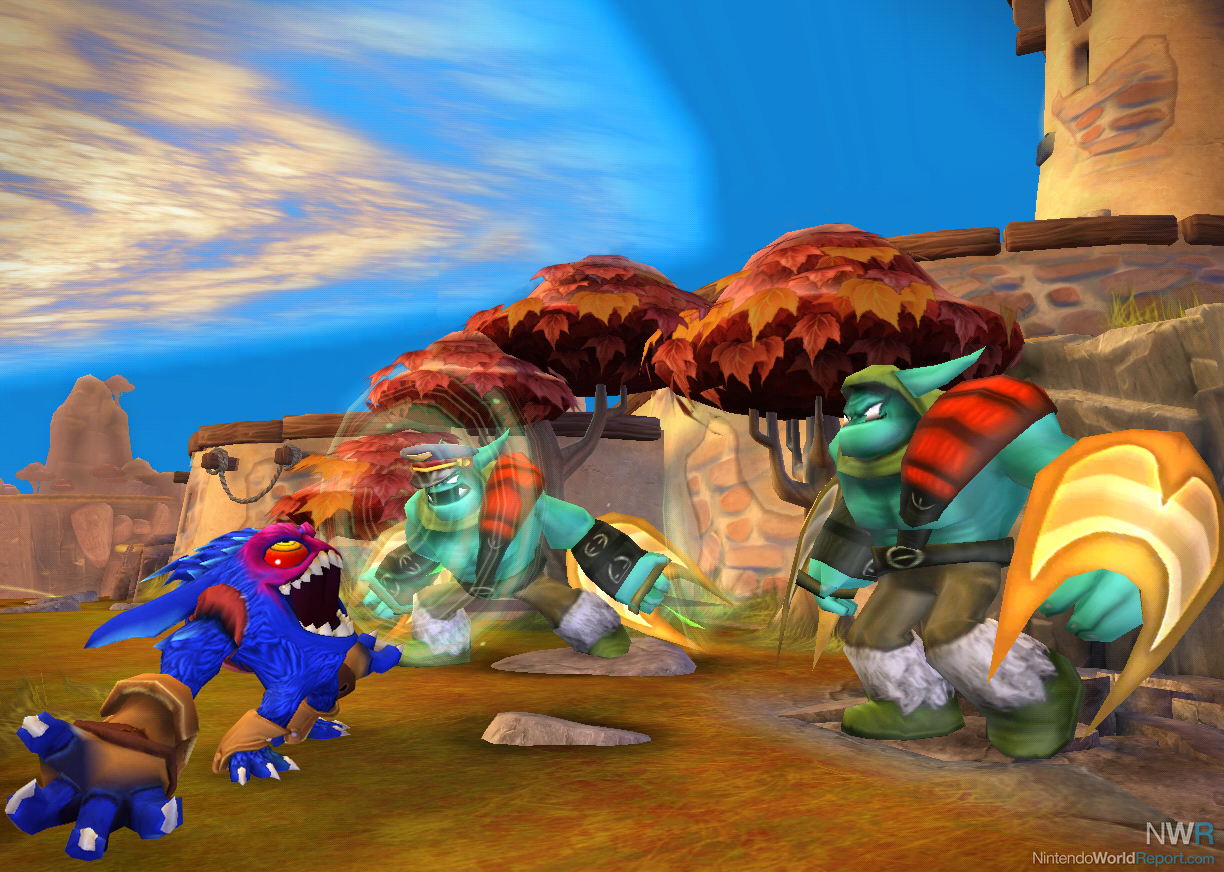 Shroom Boom was the other new Skylander on display. From the Life element, Shroom Boom is a Light Core Skylander who uses a slingshot to fire off mushrooms and himself.
Cynder, one of the first generation Skylanders, was on display in her Generation 2 pose. She's set to be included with the new bundle, and her new pose grants her access to a power only the new versions of the old Skylanders will have - the Wow Pow ability. It's a new ability that is generally more powerful than any other move. Cynder's is a large lightning attack.
Eruptor, Trigger Happy, and Prism Break, three first generation Skylanders, were also shown off as a Light Core Skylander. All the Light Core Skylanders have a one-use-per-level radial blast that is activated when they enter the game.
While the new versions of the old Skylanders have their benefits, the old ones aren't being left out. They all have the ability to go up to level 15 (the previous limit was 10), and all of them can be used in the new game. All of the new poses of the original Skylanders will also work in the original game. It is unknown if the items from the original can be used in the new game.
The new levels will boast more hidden areas than before, and also a wider variety of puzzles. The Elemental Gates, passable only by Skylanders from the element, are also set to be more integrated with the environment. Before, they were just kind of random portals to other areas. Now, they all take place in the same world, and will be more thematic, too.
Giants will also sport interiors for the first time. They will range from caves to houses, and some of them will be locked away containing secrets while others will be in the open.
We didn't get to see the new Battle Mode, but it is called Ring Out, and involves trying to push your opponent off the stage. The other three modes will be returning as well. The multiplayer is still only two-player, though. Lastly, difficulty levels will be selectable, making the game more customizable for beginner and advanced players.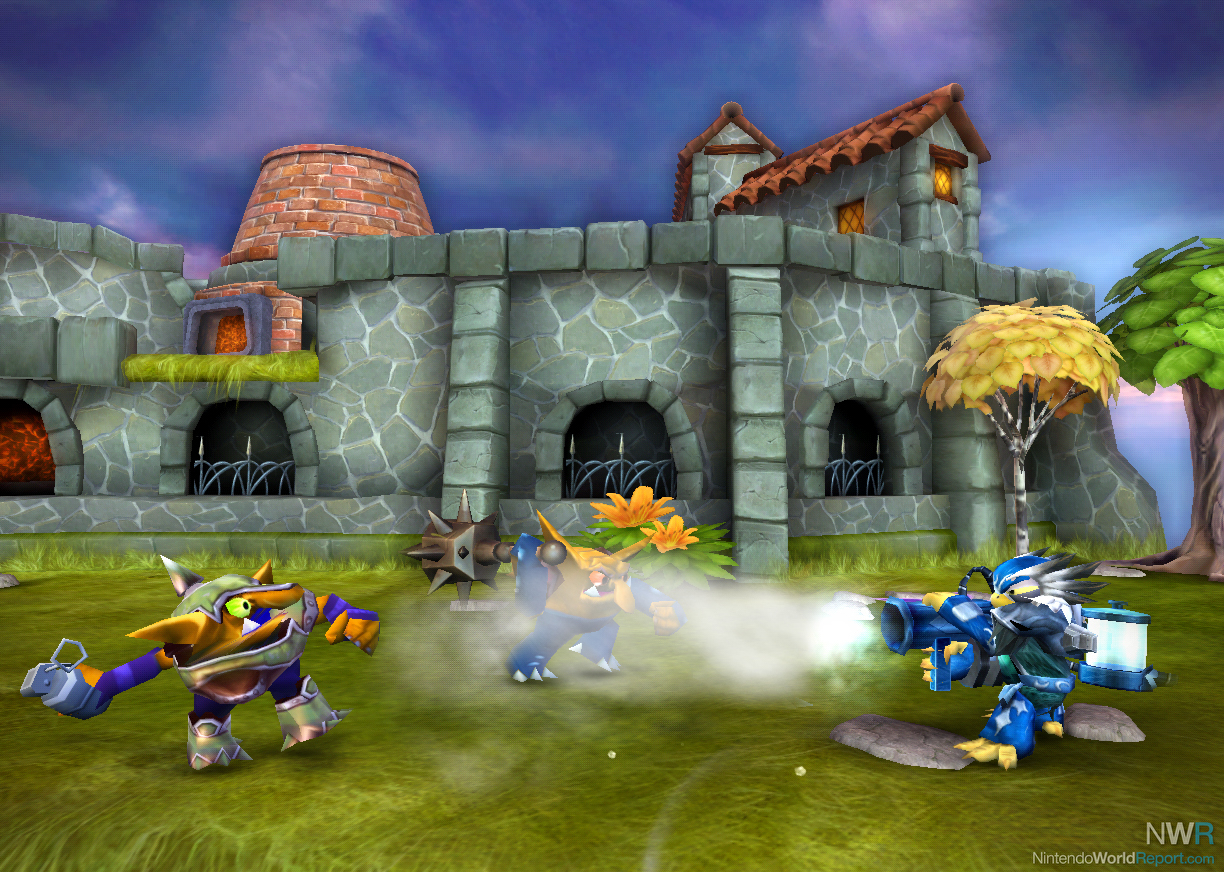 As of now, the new Skylanders bundle will set you back $74.99 on Wii and include Gen 2 Cynder, Tree Rex, Jet Vac, and a Portal of Power. On 3DS, it will cost the same price, but Jet Vac will be replaced by Pop Fizz. Additionally, there will be a Portal Owner's Pack containing just Tree Rex and the game for $59.99. The Portal Owner's Pack is only available on Wii.
Of course there is the issue of the Wii U version that was announced by Activision's CEO at E3 2012. No one at Activision's booth would confirm it, but it appears it is on the way. My guess is that it will be coming out around the Wii U launch and not at the same time as the rest of the versions, as Skylanders Giants is likely hitting stores in September or October, which is most likely before the Wii U is hitting stores.