New control methods and unlocka-balls stand among the highlights of this year's Madden game.
Beginning with Madden NFL 10, longtime Madden developers Tiburon took over the Wii version of the series. In Madden NFL 10, Tiburon built the game from the ground up, with new graphics, refined controls, and a new focus on local multiplayer gameplay. In Madden NFL 11, Tiburon added a franchise mode and some more refinements. With the newest version, coming out on August 30, there is even more content being added.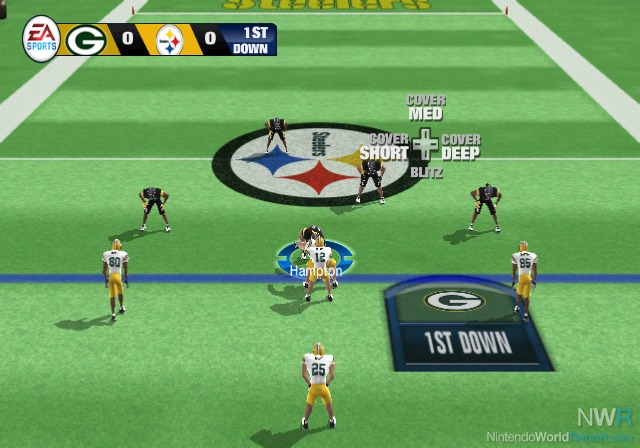 New Control Methods: For the first time on Wii, Madden will feature conventional controls. Both the versions of the Classic Controller will be supported. For all intents and purposes, the controls are the same as the Xbox 360 and PlayStation 3 versions. Additionally, there is a Tecmo Bowl-inspired control scheme where you hold the Wii Remote like an NES controller. In this mode, there is an autosprint function and minimal motion (shake the controller to do a big hit).
Bigger Emphasis on Presentation: This year's version is adding pre-game, halftime, and post-game shows with the goal of making every game different. If there was a recent trade or big injury, the pre-game show will highlight that. Players will also have post-play reactions, and a new feature, called On-Demand Stats, where you'll be able to see a player's game stats just by hovering over them on the screen. Unfortunately, the Wii version does not use the ESPN license.

Graphical Changes:

The previous versions of the game on Wii featured over-the-top exaggerated players. This year, the art style is being retained, though it is being tinkered with to make it look a little more realistic. Basically, guys won't have over-sized hands and giant shoulders.

Awards System: In the same vein as 360 achievements and PS3 trophies, Madden NFL 12 will feature 90 different awards that are broken up into franchise, social, and gameplay. The requirements vary in difficulty, and the awards are displayed in different virtual rooms you can navigate to see what you've completed.
Unlockables and Unlocka-balls: By earning awards, you'll unlock stadiums, including future Super Bowl stadiums and the Pro Bowl stadium in Hawaii, and retro jerseys. Though, regrettably, they won't have the old blue-and-gold Packer uniforms. The coolest unlockables are the five crazy footballs you can use. One of them is called the Monster's Ball, which is stitched up like Frankenstein. It does zany things like tweak the physics so squib kicks bounce and go straight into the air. It also uses some of the game changers used in the arcade modes in previous Maddens, such as Fumbilitis (every tackle causes a fumble) and It's Alive (incomplete passes are in play).
Action Zones: On lower difficulties, new players can make use of Action Zones, which display the field as a veteran Madden player sees it. So, you'll be able to see where a player might run or pass the ball while you're playing.
Tweaks to Road to the Super Bowl and Madden Showdown: The UI for these modes is being cleaned up, and both modes will feature more in-depth leaderboards and new animations.
Franchise Mode Changes: Franchise mode got a huge upgrade last year, and now that same mode is being improved. First off, fantasy draft is back after taking a year off. Also, your coaches have more of an effect on your team. For example, offensive-minded coaches will give you a boost, whereas bad coaches will take down your team's ability. Player signing and negotiation is more interactive now. Free agency now involves a timed auction, and when you try to re-sign a player, you run the risk of low-balling them so much that they then want more money.
Player Creator: You can create your own players, and change player positions, even in the middle of a Franchise. You can also remove players from Free Agency.
No Longer Reliant on Pointer Control: Courtesy of the Classic Controller support, any issues had with the overreliance on the pointer last year is more or less fixed. The D-pad can also be used to move around spreadsheets in the game.
GameFlow Improvements: GameFlow was pretty great in other versions of the game, but the Wii version was a little rough. This year, GameFlow is much similar to the other versions, with AI improvement and the ability to use the Conventional playbook when you back out of a play.
Online Still the Same: Outside of exploits being fixed, the online play is the same as it was last year, meaning you can just play exhibition games against online players.